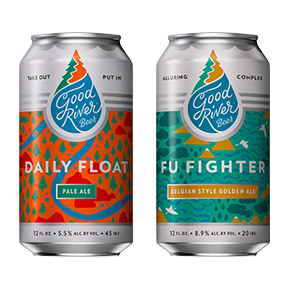 Good River Beer Takes Gold & Silver Medals in the 2019 U.S. Open Beer Championship
Denver, CO — The co-founders of Good River Beer met on the Green River in 2010 and since then have been collaborating on creating river-inspired brews, two of which took medals in this year's U.S. Open Beer Championship. The 2019 U.S. Open Beer Championship attracted more than 7,000 entries in 130 beer style categories, and Good River Beer won medals for both of the beers they entered into the competition.
Good River's Daily Float won the gold medal for the American Pale Ale, one of the most competitive categories, and Fu Fighter won silver in the Belgian-Style Strong Specialty Ale category.
The Daily Float, named after the "Daily Float" river run just west of Moab was inspired to be an easy drinking "go-to river beer" that can be enjoyed any time of day with family and friends. Director of Brewing Operations, Matt Knippenberg, explains how this recipe was part luck and part creativity. "One day I got a random call from a hop supplier in Idaho who had a couple of hop varieties that we hadn't used before. We were interested and played around until we found a couple that we thought would play well together in a pale ale." Head Brewer, Jack, adds, "The aroma and juicy hops make Daily Float a good outdoor adventure beer for me. It was a collaborative effort between our brewers that resulted in a high five, and a gold medal."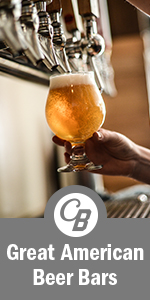 Silver medal-winner, Fu Fighter was named after the fight to save the Futaleufu River in Chile and was no simple task according to Co-Founder and Brewer, Preston Hartman, who said it took him and his team 5 years to get the recipe right. "With every Belgian style, you are either going to get light or dark fruit notes. Our trick with Fu Fighter was being able to create a Belgian that had both. Fu Fighter has stone fruit notes that are all over the spectrum, with hops just bitter enough to offset the sweetness of the fruit. All of the really awesome flavors come from the fermentation process and despite the fruity flavors, there is very little residual sugar in the beer."
Good River Beer styles are all uniquely inspired by and named after rivers or river themes. Every beer purchased helps support river conservation with 2% of every beer sold being donated to Colorado Water Trust and American Whitewater. For more information about Good River Beer and our new tap room, please visit goodriverbeer.com
More About Good River Beer
In 2015, Eric Zarkovich, Adam Odoski, and Preston Hartman united their love for the rivers and passion for brewing high quality craft beer, and Good River Beer was born. Ever since then, those three words have encapsulated what Good River Beer is all about. At Good River Beer, we are building a GOOD company, with meaningful employee engagement while being conscious of our impact on the natural environment, all while inspiring our customers to share in our mission.  We respect and cherish RIVERS, giving back 2% to conserve their value as both wild places and resources for human use and enjoyment. We brew the highest quality BEER, taking no shortcuts and putting all of our passion and creativity into every glass.