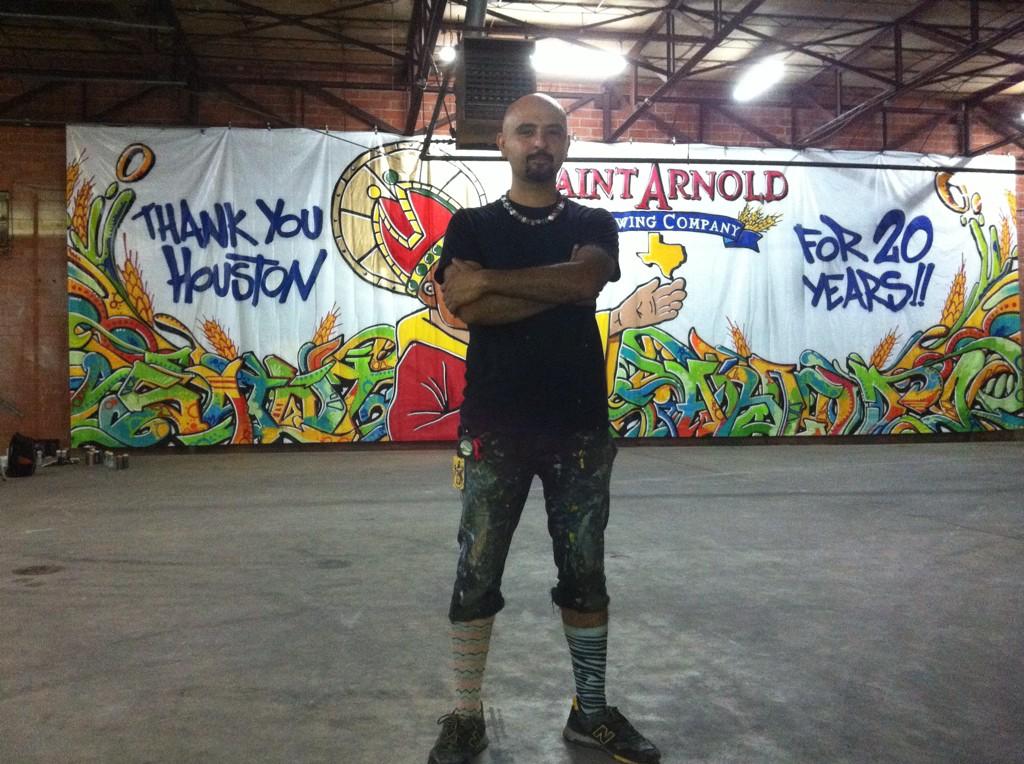 Graffiti Artist Creates Saint Arnold Brewing Co.'s 20th Anniversary Billboard
"Dream come true" says GONZO247; Quarter million cars per day will pass artist's work
HOUSTON, October 27, 2014 – Like a lot of graffiti artists growing up, Mario Enrique Figueroa, Jr., aka GONZO247, used to look for high traffic areas that would attract attention, show off his skills and get people talking. Being given a major billboard as a canvas for his work was unthinkable. Nearly 25 years later, he is realizing a dream – seeing a billboard he created from scratch for Saint Arnold Brewing Co., the oldest craft brewery in Texas, installed overlooking Interstate 10.
Starting with a 14' x 48' white vinyl panel, GONZO247 created the Saint Arnold piece inside an empty warehouse. It depicts St. Arnold of Metz, the patron saint of brewers, in front of what appears to be a jumble of colorful graffiti art – but is actually the words, "Saint Arnold" in wildstyle, a complicated and intricate form of graffiti.
"If you don't know what it says, you probably won't see Saint Arnold in the interwoven and overlapping shapes, but it's like a treasure hunt and once find it you are in on the secret," said GONZO247, who says Saint Arnold Founder/Brewer Brock Wagner gave him complete control. "He wanted it to be my art. He asked what I would paint if I ever had a chance to climb a blank billboard and just go crazy on it – and this is it."
The finished work will be installed today overlooking I-10 and Shepherd Drive. Wagner actually sought to have the vinyl painted on the billboard rather than in the studio, an idea nixed by the billboard company because of the liability.
GONZO247's work also graces Saint Arnold's grain silos, several of the brewery's art cars as well as a mural inside the brewery's tasting hall.
On Twitter, follow @saintarnold On Facebook, like www.facebook.com/saintarnold
About Saint Arnold Brewing Company
Saint Arnold Brewing's 17 brews are made and sold by the company's staff of 69 dedicated employees. Ranked 48th on the Brewers Association list of top craft breweries, Saint Arnold was listed by USA Today as one of the "10 great places to see what's brewing in beer," and Smart Meetings magazine named it among the "Top 5 breweries to host an event." Saint Arnold is located at 2000 Lyons Avenue and its brewery tour and tasting is offered every weekday at 3:00 P.M. and Saturdays starting at 11 A.M. For more information on Saint Arnold's seven year-round and five seasonal beers as well as root beer, log on to www.saintarnold.com.
Contact Info
Company: DPK Public Relations
Contact: Daniel Keeney
Email: dan@dpkpr.com