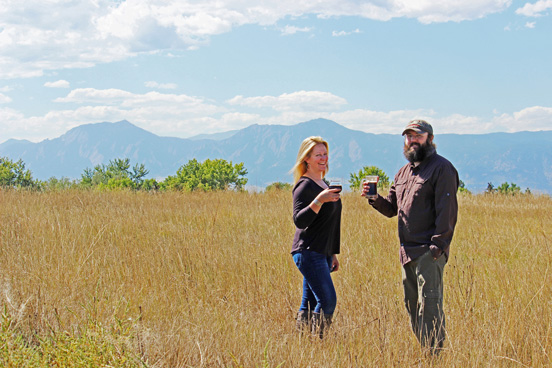 Gunbarrel Brewing Company Coming to Boulder this Spring.
Boulder, Colorado —Gunbarrel Brewing Company is under construction and set to open this spring at 7088 Winchester Circle in Boulder. The Brewery is owned by Gunbarrel locals Jamie Fox and his wife Marie. The Brewery specializes in a wide variety of beer styles employing both traditional and innovative brewing techniques."We produce a rainbow of beers from deeply flavorful stouts, to our heady double IPA Dirty Habit," explains Jamie. "Queen City Saison is fermented with a very special yeast strain, unique to our brewery."
Jamie Fox is a homebrewing veteran, with an education in Brewing Technology from the world-renowned Seibel Institute. Over the course of the past 16 years, he has developed a substantial catalog of well-tested beer recipes.
To pair with the varied beer selection, Gunbarrel Brewing Company's taproom will express a laid back "come one, come all" vibe. The Brewery's spacious 3,200 sq ft taproom will feature food trucks, live performances, and beer-centric educational events. "It's time to go out in Gunbarrel," says Marie. "We are seeking to create a lively place for people to kick-back, enjoy our beer and listen to some great live music or play a game of pool or darts with friends." The inviting beer garden with festive lights strewn above community tables and cornhole sets, will also feature a grassy open space. The flexible taproom layout will play host to private events such as community gatherings, corporate events, receptions and parties.
"The taproom is such a critical part of who we are," explains Marie. "It's the heartbeat of our brewery." The couple is raising funds via an Indiegogo crowdfunding campaign in order to really bring the taproom to life. "Opening a 20,000-square foot brewery in Boulder is no small task. Our $27k goal is what we'll need to put finishing touches on our taproom and really make it special" says Jamie. In exchange for contributions, backers select from a selection of merchandise, gift cards and Mug Clubs.
The $150 Monthly Mug Club provides backers with a 16oz beer each month for life. "We want to illustrate that while we are seeking help, we are also offering something of real value in return," explains Marie. "There's a lot of love that's gone into this brewery, and the encouragement we've gotten, both in words and in contributions to the campaign, makes us feel very excited to be bringing our brewery to Gunbarrel."
The new Gunbarrel Brewing Company facility at 7088 Winchester Circle. is located just north of Lookout Rd., on the south side of the entrance to Gunbarrel Tech Center off of North 71'st Street, very close to Foothills Pkwy & Hwy 52. Gunbarrel Brewing Company is scheduled to open in Boulder during the first quarter of 2017.
Social Media and Funding Campaign
Contact Info
Company: Gunbarrel Brewing Company
Contact: Marie Fox
Email: marie@gunbarrelbrewing.com