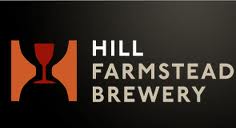 Hill Farmstead Brewery Named Best Brewery in the World 2013
Greensboro Bend, VT.  – Hill Farmstead Brewery has been named 2013 Best Brewery in the World, as well as Best Brewery in Vermont and Best Brewery in New England by RateBeer, the world's largest, most popular beer review and rating website. Also, eight of its beers were listed in the top ten new beers in the world by RateBeer.
The RateBeer awards are determined solely by the reviews of RateBeer's millions of active members. RateBeer is home to the most experienced beer critics in the world with 108 master beer tasters having over 5,000 documented beer reviews. RateBeer is also home to countless certified cicerones, GABF, GBBF and BJCP judges.
From Joe Tucker, Executive Director, RateBeer, LLC.: "Of the nearly 14,000 brewers in the world, Hill Farmstead Brewery was judged by hundreds of thousands of beer reviewers worldwide as being the best in the world. Hill Farmstead not only took the top slot, but for the first time in the 11-year history of the contest, the top brewer ran away with it. This was 'The (First?) Year Of Hill Farmstead' where Hill Farmstead not only won Top Brewer but also dominated the New Releases top 10 (8 out 10 top new 2012 releases) and took a record 31 awards in the Best Beers By Style list.
"Quietly, out off a dirt road in rural Vermont, Hill Farmstead founded a revolutionary kind of brewing for beer aficionados with a new aesthetic replete with a wide range of characteristics that can be floral, vinous, citric, rustic, roasty and over a wide range of heft and quaffability.
"Hill Farmstead is prolific, technically precise and innovative, relentlessly effortful, ambitious, plugged into its audience, primarily conceptual, and still producing with warm heart and deep soul. Their trajectory from being New Brewer Of The Year two years ago to being Best Brewer In The World today projects future years of great success." Hill Farmstead Brewery is grateful for the overwhelmingly positive support of the craft beer community, its members and our loyal fans. We look forward to continuing our work of providing the best craft beer in the world.
About Hill Farmstead Brewery Hill Farmstead Brewery is the culmination of many years of travel and insight—of experience and education—of friendships and explorations. The brewery is the revival and continuation of 220 years of Hill heritage and hand crafted history in North Greensboro, Vermont. Its logo is retrieved from a sign that once hung in Aaron Hill's (our great-great-great-grandfather) tavern, just up the hill, in the early 1800s. www.hillfarmstead.com
About RateBeer.com RateBeer is widely recognized as the most accurate and most-visited source for beer information. RateBeer is an independent world site for craft beer enthusiasts and is dedicated to serving the entire craft beer community through beer education, promotion and outreach. www.ratebeer.com