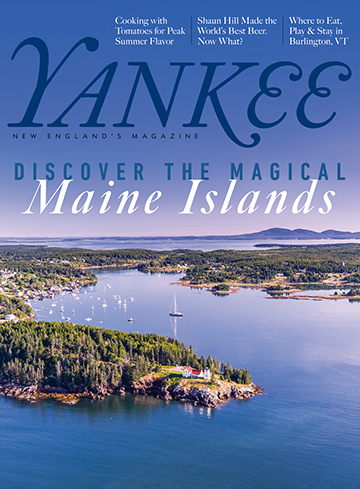 Hill Farmstead's Shaun Hill Featured in July/August Issue of Yankee Magazine
DUBLIN, NH – What do you do after you've been named "Best Brewery in the World" for five years in a row, and your personal identity has "been wrapped up in beer" all of your adult life?
In an exclusive interview with Yankee (July/August issue), Shaun Hill of Hill Farmstead brewery in Vermont tackles these tough questions about his life, career, the price of perfection, and he looks ahead to what's next.
In the 7-page feature, the enigmatic brewer opens up to Yankee contributor and James Beard Award-winning writer Rowan Jacobsen to talk about how, after years of pursuing perfection and dealing with his incredible success, Hill is finally at a place where he can step back and assess the last decade.
"You have caught me at the most remarkable crossroads," says Hill.
Hill very candidly reveals to Yankee how building a stable business and brewing the best beer was all-consuming, to the point where he could not be fully present in other parts of his life. His intense focus, and avoidance of personal interaction with his customers, also fueled a perception that he is quirky and irritable.
"There was a period of time when I was tuned out to the public. I felt like everyone wanted something from me, or thought they knew something about me, and that's the worst. There's something in my personality that wants to hide," Hill says.
Hill also talks about the unexpected challenges that have come with success, such as customers being unhappy with insanely long lines, and frazzled employees. He learned that being a great brewer is different from being a great leader: "All of the qualities that make me a great brewer – the ability to control an environment, to utilize the scientific method, to constantly engage in dialectic and experimentation – are the opposite of the things you need to be happy and to accept what is," Hill says.
Hill further believes his success stagnated his personal growth: it fueled his ego, tied his identity entirely to beer, set up a pattern of only going through the motions, and left him feeling empty.
Hill and Jacobsen also discuss the hophead culture of New England, one that Hill helped to create. While he does not criticize the competition, Hill says he is frustrated because he believes other brewers "aren't seeing their product as a continual evolution toward perfection."
Readers also learn what Hill considers to be the 3 chapters of his life, from growing up on the farmstead, going to college, taking up homebrewing and traveling around the world in order to find his true self (Chapter 1), to starting his brewing career, being conflicted between his belief in Buddhism and the morality of brewing (Buddha discouraged the manufacturing of alcohol), working in Europe and then starting Hill Farmstead in 2010 (Chapter 2).
For Hill, Chapter 3 has only just begun. With a successful business, Hill can, for the first time, focus on other things. Most importantly, he's working on developing stronger relationships: better connecting with his customers and searching for a meaningful personal relationship.
"What if I had a checklist in my pocket that was my three goals for the day: Make eye contact with every person I speak to, stand up straight with my heart exposed and vulnerable, and be patient and loving?" Hill says. "That's the stuff I'm most interested in right now."
Yankee's July/August issue hits newsstands late June.
For more information about Yankee, please visit: https://newengland.com/yankee-magazine/
About Yankee
Based in Dublin, New Hampshire, Yankee: New England's Magazine was founded in 1935 and is the iconic American magazine covering the finest that New England has to offer. Covering classic New England travel destinations, food traditions, and home and lifestyle stories with stunning photography and artwork, Yankee has featured many notable American writers in its pages such as Robert Frost, John Updike, and Stephen King. With a total circulation of nearly 300,000 and a total audience of 1.8 million readers, the magazine is published by Yankee Publishing Inc. (YPI), a family-owned, independent company. Yankee has also partnered with WGBH to produce Weekends with Yankee, a 13-episode documentary series on public television that taps into Yankee's extensive behind-the-scenes access to the region's six states. YPI also owns the nation's oldest continuously produced periodical, The Old Farmer's Almanac, and McLean Communications.
Contact Info
Company: Roslan & Campion Public Relations for Yankee Publishing
Contact: Chris Roslan
Email: chris@rc-pr.com