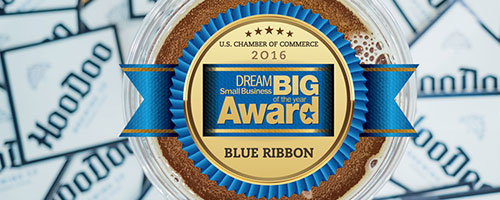 HooDoo Brewing Co. wins national small business award
It has been a great winter for Fairbanks, Alaska-based HooDoo Brewing Co.
In early December, the small, family run brewery was recognized as the 2015 Bill Stroecker Business of the Year by the Fairbanks Chamber of Commerce. Presented annually, The Bill Stroecker Business of the Year award honors the accomplishments in the business community of a member of the Chamber who has shown drive in leading local development with sights on the future of Fairbanks.
HooDoo was recognized by its local peers for consistent community involvement, an excellent business reputation with the public, and as a leader in their own profession and/or field of business. For a business that is only 3-years old, the award was an absolute honor to claim.
Fast forward to this week, the U.S. Chamber of Commerce named HooDoo a Blue Ribbon Small Business Award winner. The annual program recognizes companies for their dedication to the principles of free enterprise and contributions to restoring jobs and supporting economic growth. Because they were named one of the 100 small businesses across the country, they are eligible for a 2016 Community Excellence Award. It is a public vote, so if you'd like to see a small, craft brewery win this award, voting for HooDoo is quick and easy – click here to register and vote!
The 2016 DREAM BIG award winners were selected from a record number of applicants across the nation for demonstrating exceptional business practices in areas including strategic planning, employee development, community involvement and customer services.
"From utilizing local resources and continually giving back to the community to their outstanding reputation within Fairbanks and beyond, HooDoo Brewing Company epitomizes the spirit of small businesses in our community," said Lisa Herbert, President and CEO of the Fairbanks Chamber. "This award is a tribute to the contributions, hard work and integrity of brewer/owner, Bobby Wilken and of the nine employees that share his passion and vision of craft beer," she said.
"Incredible news. We're so honored, pleased and proud to accept these awards. We've worked hard, have an incredible staff and are grateful for our community support. Fairbanks is a great place to work and we're happy that we will always have our roots here," Wilken said when asked about the recognition.
All of this year's winners will be honored at the 12th annual America's Small Business Summit, which will take place June 13-15 in Washington, D.C. During the summit, one regional finalist will receive the DREAM BIG Small Business of the Year Award, sponsored by Sam's Club®, and a $10,000 cash prize courtesy of the U.S. Chamber.
About HooDoo Brewing Co.:
Since opening their doors in October 2012, HooDoo Brewing Co. has been instrumental in nurturing beer culture in Interior Alaska.  The business is the realization of a decade long dream of Bobby Wilken, Owner and Brewmaster who first discovered the goodness of beer while home brewing during college at the University of Montana (BS Business Administration, 2002).
After Bobby's first homebrew batch was bottled up, there was no turning back.  He finished his business degree and went on to the Siebel Institute of Brewing in Chicago and Munich, Germany.  While in Europe, Bobby toured breweries in England, Belgium, and Germany for a closer look at how the world's best breweries make their delicious beverages. Upon returning to Alaska, he joined the crew at industry pioneer Alaskan Brewing Company in Juneau.  After a four years brewing Alaskan's award winning beers Bobby moved into the laboratory to focus on quality control and recipe development.
HooDoo Brewing Company is the culmination of a journey into the world of beer, and the brews available will be a reflection of this journey. Fresh, well made, craft beer – brewed in our hometown, in the heart of Alaska.
For more information about HooDoo Brewing Company please visit: www.hoodoobrew.com.
Contact Info
Company: HooDoo Brewing Co.
Contact: Karen Wilken
Email: Karen@HooDooBrew.com