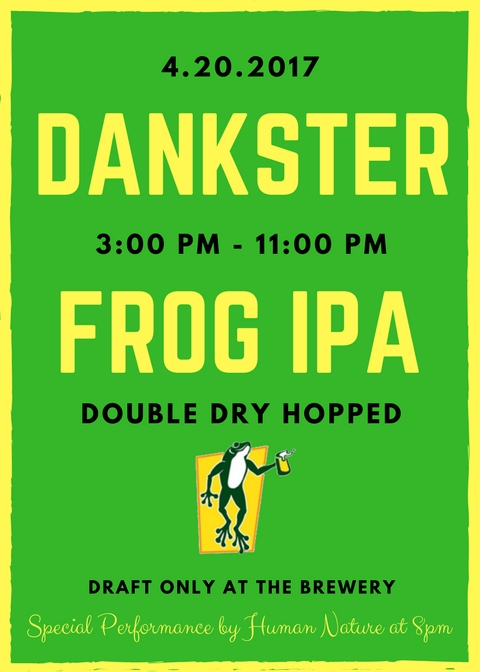 Hoppin' Frog Releases Dankster Frog IPA
Hoppin' Frog is holding their first annual Dank Day this Thursday on 4/20 starting at 3:00 p.m. featuring live music from reggae band Human Nature, Dankster Frog IPA release, specialty dank fruited beer towers and smoked wings!
Description from the brewery:
Our brewers got very creative and decided to do a very special draft only version of our Gangster Frog IPA that is double dry hopped!  This version of our flagship IPA dubbed "Dankster Frog IPA" has double the flavor and aroma hops creating a "dank" and very juicy drinking experience!
When our friends from local reggae band Human Nature wanted to perform for this special occasion, Dank Day was born!!  They will be laying down cool reggae grooves paired up with some delicious beers for your enjoyment from 8 – 10:30 p.m.   Other beers include Amarillo Blasted Killa Vanilla on draft, and two Fruited Gangster Frog IPA beer towers.  It's going to be a reDANKulous evening, so don't miss it!
Contact Info
Company: Hoppin' Frog Brewing Co
Contact: Anthony Mandala
Email: amandala@hoppinfrog.com