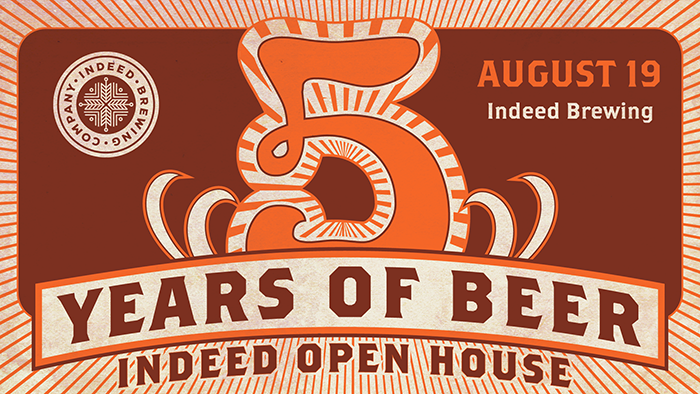 Indeed Brewing Open House
We're ready to celebrate our fifth business birthday, but the presents are all for you, thirsty creatures! We're commemorating FIVE years of business by inviting you to the Indeed Brewing Open House.
First, enjoy happy hour pricing from 12-6pm on our three original beers, Day Tripper Pale Ale, Midnight Ryder Black IPA, and Shenanigans Summer Ale. Then, take a stroll through the brewery at your leisure on a self-guided tour. Plus, for the first time ever, we will be offering public tours of our offsite barrel-aging facility and distribution center. Sign up for your spot at the taproom! To top it all off, we will have cake, food trucks and an extended patio for the occasion.
But we're not going to just stop the party at 6pm, no way. Come meet us at Icehouse MPLS for the Indeed Brewing Five Year Celebration, an all-night banger featuring live music from Black Market Brass, cajun-style food, a tap takeover and more. Cheers to five years, Indeed!
The Details: Happy Hour Pricing from 12-6pm on Day Tripper Pale Ale, Midnight Ryder IPA, and Shenanigans Summer Ale.
August 19th 12-6pm Indeed Brewing Taproom
Self-guided tours of the brewery from 12-6pm
Tours of our barrel-aging facility and distribution center in St. Paul -See the home of our Wooden Soul program and peek in our 3600 sq. ft. cooler -Sign up times coming soon -Tours last approximately 30 minutes with 15 minutes of travel time to and from -$5 per person
About Indeed Brewing
Indeed Brewing Company was founded by Rachel Anderson, Nathan Berndt, and Tom Whisenand, and sold its first beer in August of 2012. With a growing team of nearly 50 employees and distribution in three states and counting, Indeed aims for sustainable growth and while staying true to its roots.
Nestled alongside the train tracks in the heart of the Northeast Minneapolis Arts District, Indeed is a full-scale production brewery led by Head Brewer Josh Bischoff, with an artfully eclectic line-up of distinctive flagship beers, well-loved seasonal releases, and adventurous specialty brews. Its diverse offerings are anchored by its flagship Day Tripper Pale Ale, and rounded out by the "brewer's choice" Derailed Series of experimental brews, and the Wooden Soul series of wild, sour, and barrel-aged beer. Read more about our beers.
Well-known locally as an engaged and community-oriented brewery, Indeed has two lively taprooms, open five days a week and home to Indeed We Can, the company's employee-driven charitable giving program, which donates 100% of taproom profits to an employee-sponsored local nonprofit every Wednesday of the year. Read more about our taproom and Indeed We Can.
We're not just brewing beer, we're crafting experiences. We Are Thirsty Creatures Indeed.
Contact Info
Company: Indeed Brewing Company
Contact: Erin Graney
Email: erin.graney@indeedbrewing.com