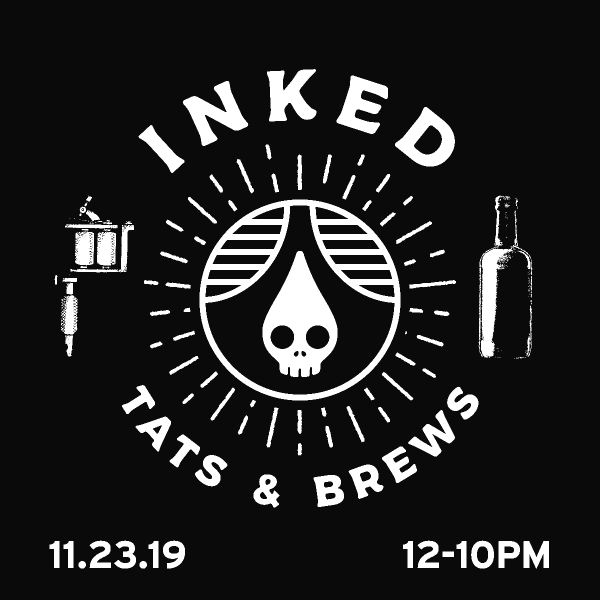 INKED @ Rhinegeist Brewery
Rhinegeist Brewery is excited to announce INKED, our inaugural celebration of all things Ink. On Saturday, November 23rd, special variants of our indelible Imperial Stout will be available on draft and in bottles, while some of Cincinnati's premier tattoo artists will be doing live tattoos of pre-selected flash art. 
Six bottled variants of Ink, our seasonal Imperial Stout, will be available, as will a specialty flight of one-off experimental versions. Year by year vintages of Ink will also be available, dating as early as 2015. 
"Ink on its own has tons of rich chocolate character, and that's all from the malt; there are no adjuncts in the beer," says Mitch Doughtery, Barrel Master at Rhinegeist. "Ink stands up well to barrel ageing, and its roasty chocolate flavor is a great base for additions like coffee, cacao nibs, or coconut."
The full list of Ink variants will include Ink, Café Ink, Molé Ink, Coconut, Cacao & Almond Ink, BA Ink, BA Café Ink, BA Coconut & Cacao Ink, BA Sappy Ink, BA Rye Ink, and Ink Float (a rootbeer float-inspired variant).
Participating tattoo parlors include White Whale, Get Up Tattoo Society, Black Fern, Got Ink? and Handcraft Tattoo.
The Details:
Saturday. November 23rd from 12pm to 10pm.
No ticket required. Ink variants will be available for purchase in bottles and on draft.
Each tattoo parlor will have their own booth with a provided flash sheet of tattoos available for purchase that day. 
Accessibility: Rhinegeist is ADA compliant. We do not have a public elevator, but are happy to accommodate those in need of one using our events elevator. Full details are available on the event page (rhinegeist.com/event/inked).
Contact Info
Company: Rhinegeist Brewery
Contact: Haley Payne
Email: hpayne@rhinegeist.com