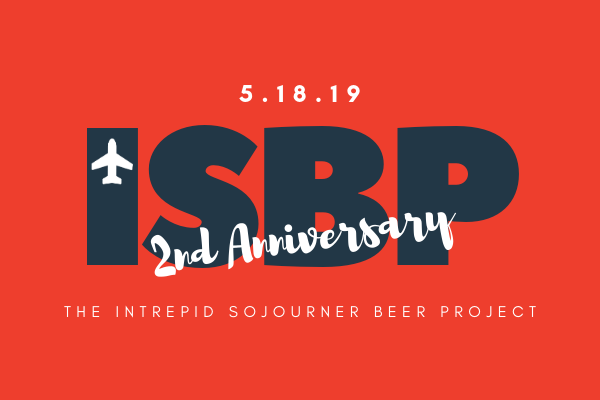 Intrepid Sojourner Celebrating 2nd Anniversary with Beer Garden Party
DENVER, CO — The Intrepid Sojourner Beer Project® will celebrate its second birthday with a party on Saturday, May 18, at its brewery and taproom at 925 W 8th Ave. in Denver's Art District on Santa Fe.
"It's hard to believe we've been open for two whole years," co-founder and head brewer Andrew Moore said. "I've been lucky to be able to do so many fun beers."
In addition to a food trucks-and-lawn game-laden beer garden, the brewery will celebrate with tappings from the cellar: the peat-smoked Strong Scotch Ale, sour Flanders Purple, and Rum-Barrel Aged Imperial Turkish Coffee Stout.
The rest of the beer menu will comprise the flagship Basil IPA, Turkish Coffee Stout, Blueberry Lemon Thyme, Pear Saison, Chamomile Hefe-Wit, Kölsch w/ Lemongrass & Ginger, and Lavender Tripel (and its shandy, mixed with Dos Luces Brewery's Chicha Morada); as well as the smoked Polish Grätzer, a Stranahan's whiskey-barrel-aged Russian Imperial Stout, a chardonnay-barrel-aged cherry sour, and an Aspen wood-aged Sahti.
The brewery will also be renewing its Intrepid Sojourner Beer Club: For $50, members get a personalized, engraved glass in which they receive $1 off pours all year, as well as early access to monthly bottle releases.
Bottles on the schedule include many beers mentioned above, plus Red-Wine-Barrel-Aged Belgian Quad and several sours (Tequila Pear, Whiskey-Barrel-Aged Chocolate Sour Brown, Tequila-Barrel-Aged Flanders Purple, and Palo Santo Golden Strong).
Special limited-edition anniversary merchandise will also debut on anniversary day: A branded, 13-oz., stemmed Rastal Luttich Balloon glass priced at just $4 with a full beer pour ($8 for extra glasses), and a new-logo t-shirt and hat.
Contact Info
Company: The Intrepid Sojourner Beer Project
Contact: Ben Gettinger
Email: ben@sojournerbeers.com