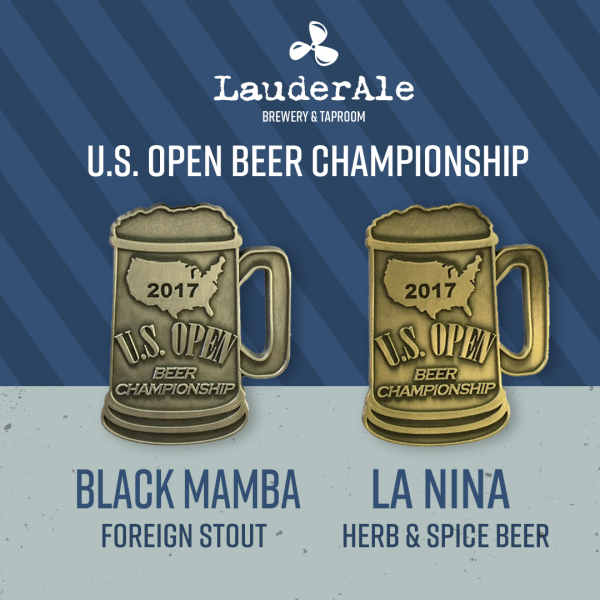 LauderAle Snags Two Medals at the 2017 U.S. Open Beer Championship
LauderAle, a brewery located between the beach and the Everglades in Fort Lauderdale, Florida, just made a superb showing at this year's U.S. Open Beer Championships in Ohio. They won a gold medal for La Nina in the Herb & Spice Beer category, and a silver medal for Black Mamba in the Foreign Stout category.
U.S. Open Beer Championship
Breweries from Vermont to Vietnam sent in more than 6,000 beers representing over 100 different styles for the 2017 U.S. Open Beer Championship, which recently announced winners. The competition includes professional breweries and award-winning home-brewers, with judges from England, Canada and the United States. The complete winner's list can be found at U.S. Open Winners List.
LauderAle
LauderAle has gone from a five-gallon bucket to a must-visit treasure, celebrated in Fort Lauderdale and all over South Florida. LauderAle took home a gold medal at the 2016 Best Florida Beer Championships, and a silver medal at the 2017 event. What an adventure that started from just a conversation between friends.
Just like every great idea, LauderAle was conceived between friends over a few beers. Owners Joey Farrell and Kyle Jones stumbled upon this idea one night at a local craft beer bar. While bantering about possible inventions and other business ideas, the one that stuck was how fun and adventurous it would be to own a brewery.
At the end of July, they are celebrating their 3rd Anniversary with a two-day festival. They are pulling out all the stops to celebrate the celebration on July 29th and 30th, with a growing list of barrel-aged beers, brewed up especially for the big bash, food trucks, live music, plus dozens of other new, specialty beers and treatments, making this their best lineup yet. The party will take place during normal business hours of the brewery 12pm-1am on Saturday and 11am-9pm on Sunday, rain or shine.
Contact Info
Company: AR Design
Contact: Ryan Buynak
Email: ryan@ardesign.us