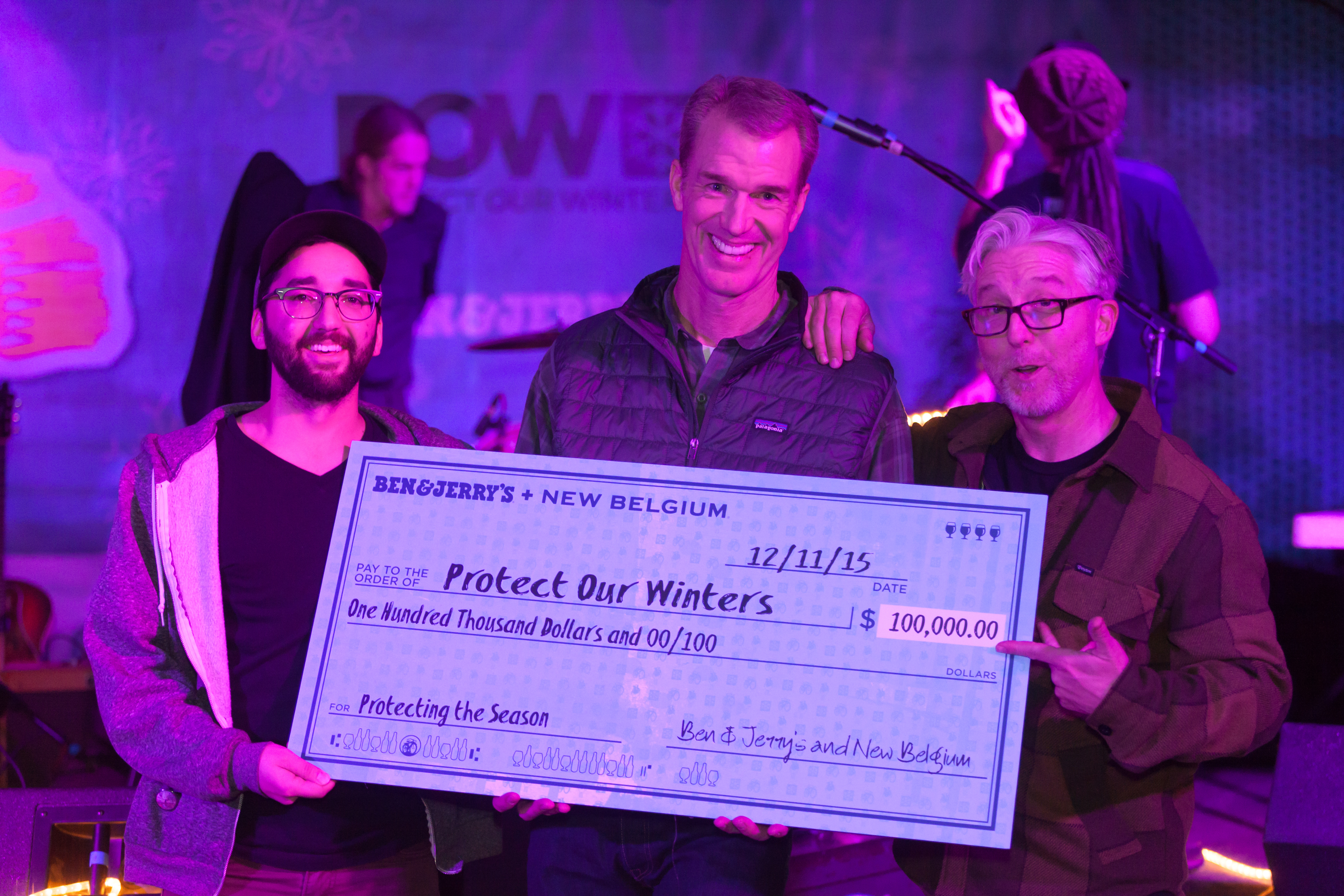 New Belgium Brewing and Ben & Jerry's Donate $100,000 to Protect Our Winters
Hot on the heels of the historic Paris climate accord, New Belgium Brewing and Ben & Jerry's are donating $100,000 to Protect Our Winters (POW). The two B-corp companies joined forces to create a beer and ice cream with a portion of the proceeds going to POW, a nonprofit that engages and mobilizes the snow sports community to lead the fight against climate change. On Friday, December 11 a check was presented to POW during a celebration at Stoney's Bar and Grill in Denver that was chockfull of music, food, climate activism and, of course, beer and ice cream.
"We're honored to have partnered with these iconic and environmentally-responsible brands," said professional snowboarder and founder of POW, Jeremy Jones. "We're using this partnership as a force for good, helping to make sure that our state governors know how important a strong climate policy is to everyone who wants clean air, water and a consistent winter season. Thank you to New Belgium Brewing and Ben & Jerry's for this generous contribution to POW, which will allow us continue our advocacy work in 2016."
In addition to fundraising for POW, the campaign encouraged people to generate letters of support for the Clean Power Plan. More than 2,200 letters were sent to Governor's across the country voicing support for the initiative to reduce carbon emissions from the nation's energy grid.
"The letter writing campaign was a great success and being able to give POW a check for $100,000 is the proverbial cherry on top of a partnership that just felt right from the beginning," said Bryan Simpson, spokesman for New Belgium. "Partnering with Ben & Jerry's, a fellow B Corp company that shares similar values, was a great experience and we're thankful to everyone who bought the beer and ice cream to make the campaign such a great success."
Ben & Jerry's helped launch the campaign with an event in Washington, DC in October.
"We partnered with the coolest beer business a la New Belgium Brewing, made a pair o' tasty products, partied with a Senator/POW athletes/and a couple of killer bands at the launch all the while knowing that it was an environmentally impactful and POWerful partnership," said Ben & Jerry's spokesperson, Sean Greenwood.
New Belgium's Ben & Jerry's-inspired beer is out through the end of this year while supplies last. Salted Caramel Brownie Brown Ale is laden with dark roasted malts, chocolaty tones and hints of vanilla. The ice cream, Salted Caramel Brown-ie Ale ice cream, is a Limited Batch flavor and consists of New Belgium Brown Ale Ice Cream with Salted Caramel Swirls and Fudge Brownies.
For more information about Protect Our Winters, visit www.protectourwinters.org. For more information about New Belgium Brewery, visit www.newbelgium.com For more information about Ben & Jerry's, visit www.benjerry.com 
ABOUT PROTECT OUR WINTERS Protect Our Winters (POW) was started in 2007 by pro snowboarder Jeremy Jones who witnessed first-hand the impact of climate change on our mountains. After having been turned away from areas that had once been ride-able and seeing resorts closed due to lack of snow, Jeremy saw a gap between the winter sports community and the action being taken by us all to address the problem. Snow-based recreation in the United States is estimated to contribute $62 billion annually to the US economy and supports over 940,000 jobs.  So when we look at the cost of inaction, it's serious business. We are the environmental voice of the global snow sports community, united towards a common goal of reducing climate change's effects on our sports, our industry and local economies through education, advocacy and community-based activism.  POW was founded on the idea that the collective power of the winter sports community is massive, and if we can all work together, the end result can be revolutionary. Together We Can Protect Our Winters.  ProtectOurWinters.org/
ABOUT NEW BELGIUM BREWING COMPANY New Belgium Brewing, makers of Fat Tire Amber Ale and a host of Belgian-inspired beers, is recognized as one of Outside Magazine's Best Places to Work and one of the Wall Street Journal's Best Small Businesses. The 100% employee-owned brewery is a Platinum-level Bicycle Friendly Business as designated by the League of American Bicyclists, and one of World Blu's most democratic U.S. businesses, and a Certified B Corp. In addition to Fat Tire, New Belgium brews ten year-round beers; Ranger IPA, Rampant Imperial IPA, Shift Pale Lager, Slow Ride Session IPA, Snapshot Wheat, Sunshine Wheat, 1554 Black Lager, Blue Paddle Pilsner, Abbey Belgian Ale and Trippel. Learn more at NewBelgium.com.
ABOUT BEN & JERRY'S As an aspiring social justice company, Ben & Jerry's believes in a greater calling than simply making a profit for selling its goods. The company produces a wide variety of super-premium ice cream, yogurt and sorbet using high-quality ingredients. Ben & Jerry's incorporates its vision of Linked Prosperity into its business practices in a number of ways including a focus on values-led sourcing. In 2014 the company plans to complete its transition to using entirely non-GMO (genetically modified organisms) ingredients by source as well as to fully Fairtrade-certified ingredients wherever possible, which benefits farmers in developing countries. Ben and Jerry's products are distributed in 35 countries in supermarkets, grocery stores, convenience stores, franchise Ben & Jerry's Scoop Shops, restaurants and other venues. Ben & Jerry's, a Vermont corporation and wholly-owned subsidiary of Unilever, operates its business on a three-part Mission Statement emphasizing product quality, economic reward and a commitment to the community. Ben & Jerry's became a certified B Corp (Benefit Corporation) in 2012. The Ben & Jerry's Foundation's employee-led grant programs totaled $2.5MM in 2013 to support economic and social justice, environmental restoration, and peace through understanding. For the inside scoop on Ben & Jerry's visit BenJerry.com.
###
Contact Info
Company: Communications Strategy Group
Contact: Jenny Foust
Email: jfoust@csg-pr.com