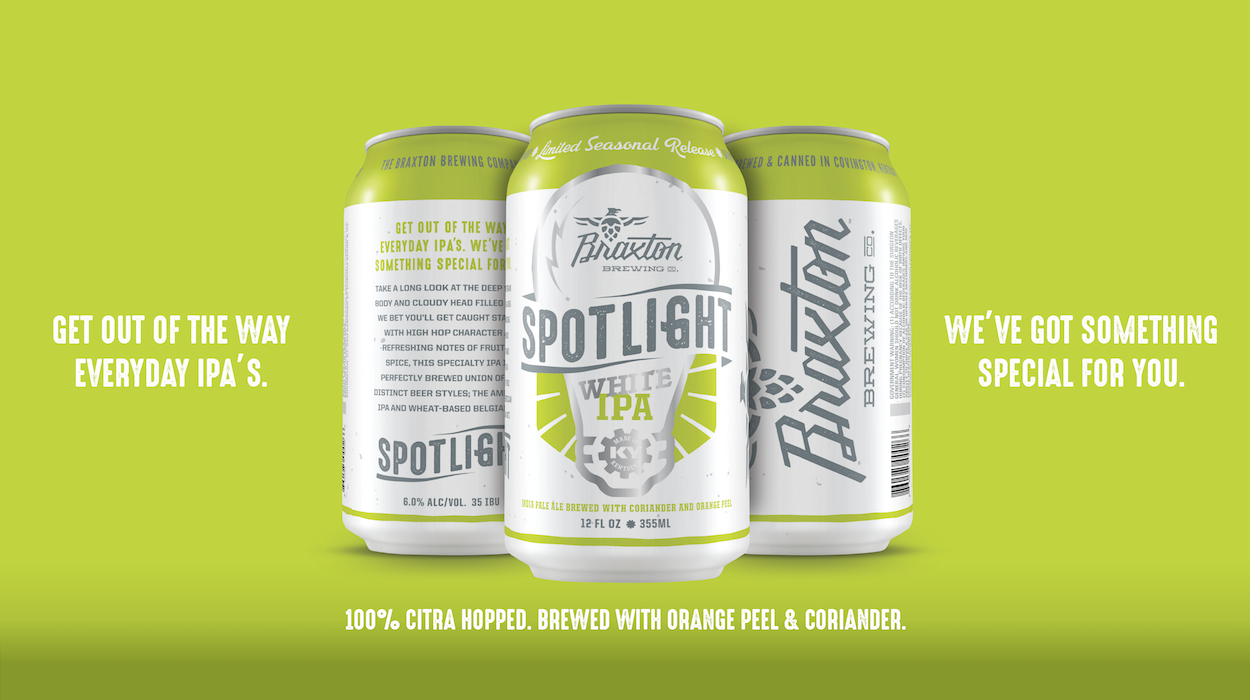 New Year, New Beer. Braxton Brewing Co. Announces Next Can
 It's a new year and new beer for Braxton Brewing Co. The Covington-based brewery will be releasing Spotlight White IPA in cans in the first week of 2017. This 100% Citra-hopped, 6.0% ABV IPA was brewed with orange peel and coriander.
Join the can release and tapping party here.
"The first seasonal can in our lineup for the year is truly important as it sets the tone for the rest of the year. Based off of our own experimentation and feedback from our fans, we saw an opportunity to put our spin on a unique IPA," said Jake Rouse, Braxton Brewing Co. Co-Founder & CEO. "Spotlight is a unique beer and we can't wait for you to get your hands on it!"
The 6-pack, 12 oz. cans will be available at select retailers and liquor stores across the brewing company's distribution network in Northern Kentucky, Cincinnati, Dayton, Lexington and Louisville. It will also be available at bars and restaurants on draft. This is the first of four new packaged products that Braxton Brewing Co. will be releasing in early 2017.
Braxton Brewing Co. has been using its Beta series as an opportunity to create, iterate and tinker with the classic IPA style. Beta 3.0, an experimental White IPA, was so popular, the brewing team decided that it would make a great seasonal can. Further recipe development led the Covington-based brewery to create Spotlight — a blend between the American IPA and Belgian Wit. It's a beautifully balanced beer for January and February.
"We've always loved exploring exciting styles of beer, and Spotlight is no different. Through several conversations with customers at our Beta tests, our brewers were excited to create a single hopped White IPA," said Evan Rouse, Braxton Brewing Co. Co-Founder & COO. "Citra hops balance perfectly with the orange peel and coriander to serve up a unique style of IPA."
The can's description reads, "Take a look at the deep straw body and cloudy head filled glass. We bet you'll get caught staring. With high hop character and refreshing notes of fruit and spice, this specialty IPA is a perfectly brewed union of two distinct beer styles; the American IPA and wheat based Belgian Wit."
Braxton Brewing Company will tap Spotlight and release cans in their taproom on Friday, January 6th. Cans will be delivered to retail outlets beginning in the first week of January.
You can join the tapping party here.
Helping bring this brand to life, Braxton Brewing Co. has worked with Durham Brand & Co. to create Spotlight's seasonal brand and can design.
"Coming off of the last dark and heavy Blown Gasket Seasonal can, we wanted to brighten things up a bit in 2017 with a name and can design that would stand out on the shelf," said Austin Dunbar, Founder & Owner of Durham Brand & Co. "The name Spotlight paired great with the bright flavor profile of the Citra hops and using can silver as a color and a unique broken lightbulb as a badge was a fun tie into the White IPA name"
Follow Braxton Brewing Company on Facebook, Twitter, and Instagram to stay in-the-know.
Contact Info
Company: Braxton Brewing Co.
Contact: Jonathan Gandolf
Email: jonathan@braxtonbrewing.com