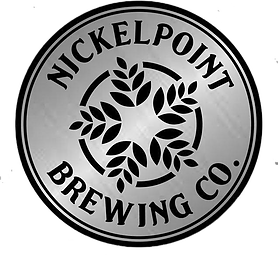 Nickelpoint Brewing Co. signs NC distribution deal with Mutual Distributing
(Raleigh, NC) – Mutual Distributing Company announced today that it has added Nickelpoint Brewing Co. to its beer portfolio. Nickelpoint is based in Raleigh, North Carolina.
"We are very excited about the addition of Nickelpoint to our portfolio," said Michael Hayek, Statewide Beer Division Manager of Mutual Distributing. "Nickelpoint is quickly becoming known for their dedication to consistently brewing the highest quality products with a special focus on traditional styles, and we look forward to growing their brand together in North Carolina."
"Nickelpoint is excited to be joining the Mutual Craft Beer family.  We look forward to working with a team that has clearly dedicated themselves to being great partners for growing North Carolina breweries," said Bruce Corregan, Co-Founder, CEO and Head Brewer of Nickelpoint.
Nickelpoint Brewing Co. is the original craft brewery in the vibrant Five Points neighborhood of Raleigh, North Carolina. They focus on preserving European beer styles of a bygone era with a special emphasis on quality control in the brewing process.
"We have been very impressed by their dedication to consistency and quality and look forward to helping them grow in the state of North Carolina," said Scott Cash, VP of Sales for Mutual. "We are very confident that they will make a great addition to our lineup of quality craft breweries.
Nickelpoint offers flagship styles as well as a variety of seasonal beers throughout the year. Nickelpoint plans to release their IPA and Vienna Lager in cans at their brewery on February 5th. Mutual will begin distributing their products the following week. Initial distribution will be focused on the greater Triangle area of North Carolina.
"We are enthusiastic about this new partnership! We feel that aligning ourselves with Mutual Distributing as we release our beer in cans for the first time is the perfect opportunity to satisfy our customers requests for greater access to our products," said Shaluka Perera, Co-Founder and VP of Sales and Distribution of Nickelpoint.
Mutual Distributing Company is a wholesale beer and wine distributor servicing the entire state of North Carolina. With over 650 employees and seven full-service branch offices throughout the state, Mutual is committed to providing quality products and exceptional customer service.
Contact Info
Company: Mutual Distributing Company
Contact: Michael Hayek
Email: Mhayek@mutualnc.com