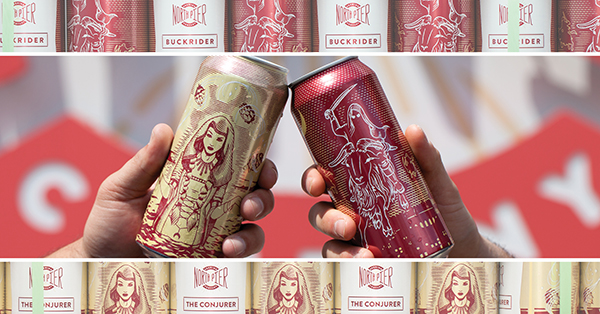 North Pier Brewing Company Celebrates One Year Anniversary with Can Launch
Benton Harbor, MI—On Saturday, May 27, North Pier Brewing Company will raise a can to salute its customers and fans as they celebrate the brewery's first anniversary. The event coincides with the brewery's release of its first canned beers, Buckrider (Belgian IPA) and The Conjurer (Belgian Golden Strong), which attendees will be able to purchase for the first time at the Benton Harbor taproom on May 27.
"The past year has been incredible," said owner Jay Fettig. "Focusing on the taproom and getting people to try our beer has allowed us to share our vision with the community. The taproom has become a friendly gathering place and Steve [Distasio, head brewer] is exploring his own unique spin on a number of classic beer styles. With the retail can launch coming next, the future looks very exciting."
The May 27 celebration runs from 1–10 p.m. at the taproom (670 N. Shore Dr., Benton Harbor, MI). Entry to the party itself is free for those who would like to purchase beer and food a la carte, while exclusive ticket packages can be purchased via Eventbrite. The $20 ticket package includes all-you-can-eat food —a crawfish boil and po' boys served up by Bistro on the Boulevard—one beer token and a 16oz commemorative can glass. The $35 ticket package includes all of the above, plus a limited edition 750ml bottle of North Pier's Oak-Aged Brett Saison.
Beyond the celebration of a full year in business, the retail can launch is the next stop on North Pier's journey into the craft beer world, with draft selections already available at bars and restaurants. In early June, Buckrider and The Conjurer will both be available in 4 packs of 16oz tall cans at beer retailers throughout Southwest Michigan.
About North Pier: Jay Fettig opened North Pier Brewing Company in Benton Harbor, Michigan in May 2016. With Steve Distasio at the brewing helm, North Pier salutes those who wander by exploring the unique traditions of European-style ales with the Great Lakes community. Its family friendly taproom and outdoor beer garden is located less than a mile from Lake Michigan and features 12 rotating beers on tap, which visitors can enjoy by the glass on-site or to-go in growlers and cans. To learn more about North Pier Brewing Company visit them online: www.northpierbrewing.com
Contact Info
Company: North Pier Brewing Company
Contact: Jay Fettig
Email: jay@northpierbrewing.com