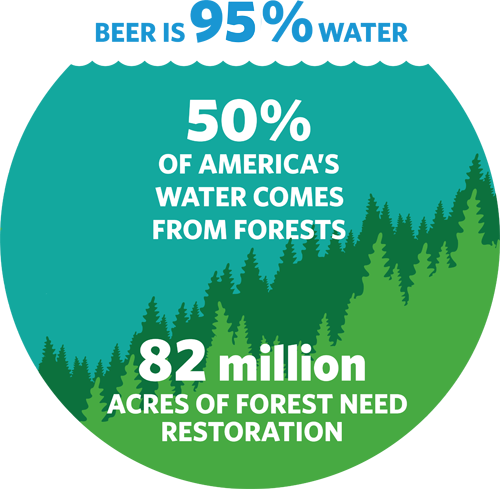 OktoberForest Campaign Begins in Idaho!
(Boise, ID) — Yesterday, The Nature Conservancy and Payette Brewing launched the month-long OktoberForest awareness campaign in Idaho. The campaign is making beer fans aware of the critical link between the health of America's forests and beer's main ingredient—water.
The relevance of America's forests to breweries is transparent: 95% percent of beer is water, and more than 50% of America's water comes from our forests.
America's forests improve water supplies for people by storing and filtering rain and snow. They do this in a number of ways: Forests help shade streams, lakes, and snow from evaporation; the forest floor helps filter sediment; and tree roots helps hold soil together so it can store water like a sponge.
But America's forests are increasingly becoming threatened by severe fires, disease, and pest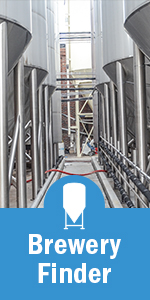 damage. The U.S. Forest Service estimates that about half of its forested lands are in need of restoration in order to maintain natural benefits for people, water, and wildlife.  This is an area larger than Colorado.
"We are supporting OktoberForest because we not only care about our forests in Idaho, but our business depends on healthy water for good beer," said Paige Coyle, Payette Brewing Marketing Director. "As a brewery we work to make our business as sustainable as it can be, and teaming with The Nature Conservancy on OktoberForest is a great way to celebrate forests and beer at the same time."
"We are thrilled to partner with Payette Brewing on the OktoberForest campaign," said Toni Hardest, The Nature Conservancy's Idaho state director. "The Nature Conservancy has been working to conserve and restore America's forests for more than 60 years—we are drinking in the opportunity to help conserve beer's main ingredient."
As the 55 breweries in Idaho know, water is beer's main ingredient, and forests are remarkably efficient at filtering that water. In fact, there's a direct connection between forest health and water quality, whether that water is used for drinking or brewing beer. When our forests are threatened by disease, insects or wildfire, our water is at risk, too.
OktoberForest highlights the benefits of ensuring the health of our forests across the nation and right here in Idaho. The Nature Conservancy and partner brewers see the Wildfire Disaster Funding Act as one way to support the health of America's forests.
Recently introduced in the U.S. Senate, the bipartisan bill and its companion in the House seek to change how the federal government budgets for the suppression of large wildfires to make that process similar to the way other disasters are funded.
Currently, wildfire suppression is funded at increasing levels that chip away at important conservation programs. Those same programs are further strained through the practice of "borrowing" when wildfire suppression levels do not meet the suppression needs. Recently, the USDA Forest Service transferred $300 million from other accounts to meet its current suppression needs, and even that may not be enough to meet those needs through the end of the fiscal year.
The current flawed way of paying for fighting these big wildfires means that federal agencies must choose whether to put out the fires or spend money on conservation and land management they've historically focused on.
In states like Idaho, the Wildfire Disaster Funding Act would help ensure more money would be available for ensuring forests are healthy and less fire-prone in the first place. That's good for people, water, and wildlife.
You can participate in OktoberForest by visiting www.OktoberForest.org:
Take the quiz—how much do you know about forests, water, and beer?
Check out the map— how healthy are the forests around your favorite brewery?
Take action on the Wildfire Disaster Funding Act—a sensible approach to funding wildfire suppression and ensuring healthy forests.
Post—your favorite forest and brewery photos Facebook and Twitter at #OktoberForest
The Nature Conservancy is a leading conservation organization working around the world to conserve the lands and waters on which all life depends. The Conservancy and its more than 1 million members have protected nearly 120 million acres worldwide. www.nature.org.
Payette Brewing Company: Founded in Boise, ID by Michael Francis in 2010, Payette Brewing Company is proud to be Idaho's largest brewery. The brewery currently runs a 60-barrel brewing system and offers six year-round beers, seasonal releases, various beers their Another Round Small Batch Experimental Series and their rotating twenty-two-ounce bottle series. Beer fans are encouraged to follow Payette's social media for the latest updates or visit www.PayetteBrewing.com.
###
Contact Info
Company: Payette Brewing Company
Contact: Paige
Email: paige@payettebrewing.com