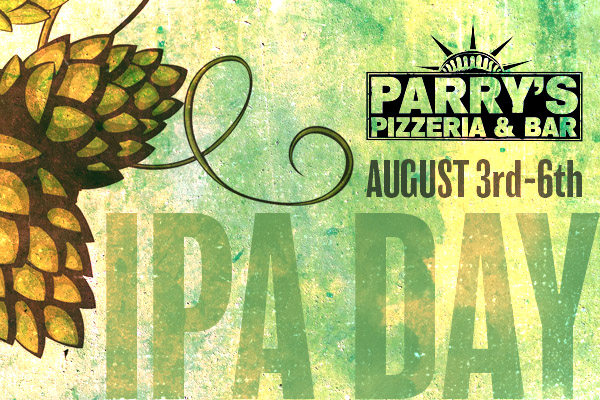 Parry's Pizza IPA Day Celebration
Celebrate IPA Day with Parry's Pizza IPA Day shindig. Parry's will be tapping a slew of great IPAs to celebrate this fine day on the calendar. Tappings will start on 8/3 and continue through the weekend. Hopheads stand up! Details and specific location list can be found by visiting Parry's Pizzeria & Bar.
About IPA Day
Founded in 2011, IPA Day is a universal movement created to unite the voices of craft beer enthusiasts, bloggers and brewers worldwide, using social media as the common arena for connecting the conversation.
IPA Day is not the brainchild of a corporate marketing machine, nor is it meant to serve any particular beer brand. IPA Day is opportunity for all breweries, bloggers, businesses and consumers to connect and share their love of craft beer. It is an opportunity for the entire craft beer culture to combine forces and advocate craft beer through increased education and global awareness.
Contact Info
Company: Parry's Pizzeria & Bar
Contact: Keniey
Email: ksonley@parryspizza.com