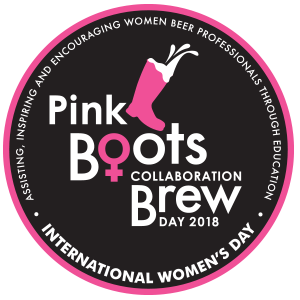 Pink Boots Brew Day 2018 for International Women's Day
Philadelphia, PA, — Pink Boots Collaborative Brew Day was derived from members wanting to take part in International Women's Day by raising the profile of women's roles in the beer industry. Chapters and members of Pink Boots get together with supporting breweries and brew their version of the selected beer style. Proceeds from the sale of the collaborative brew is donated to the Pink Boots Society, which is applied to educational scholarships for its members.
The local Philadelphia Chapter has been brewing on March 8 for the past two years. "Each year we have picked a brewery to work with and every year the number of women participating has grown. This year we are hosting our largest brew day yet with five area breweries and a University hosting brew days" says Erin Wallace, President of the Philadelphia Chapter of Pink Boots Society. The National Chapter selects the style of beer, with each chapter/ brewery coming up with their own version of that style. This year the Pink Boots Society teamed up with YCH Hops to create a special hop blend for each chapter to brew with.
Free Will brewing is hosting the largest brew day, which is open to any women who works for in the beer industry. Their beer "Tenenit", named after the Egyptian goddess of beer & brewing, will be a 6.5% IPA. Sly Fox Brewing will be hosting a brew day for all their female employees. They will be brewing a hoppy American wheat ale. This year three New Jersey breweries will be participating. Zed's Brewery has opened their brew day to women from their local homebrew club, Barley Legal. They will be brewing "Zed's in Boots – PBS 45", a pale ale coming in at 5% and 45IBUs. Eight and Sand Beer Company in Woodbury will be brewing "Nevertheless She Brewsisted" a dry hopped kettle sour ale. Czig Meister Brewing Company of Hackettstown, will be brewing four beers for a special Pink Boots Flight. Each beer will be a different style highlighting the Pink Boots Hop Blend. They are brewing a New England IPA with Hibisucs and Rose Hips, a Dessert Berlinerweise with Guava, Lactose & Vanilla, a hoppy Kolsch and a Belgian Double IPA. The women of the Brewing Science Program at the University of Sciences will also be hosting a brew day.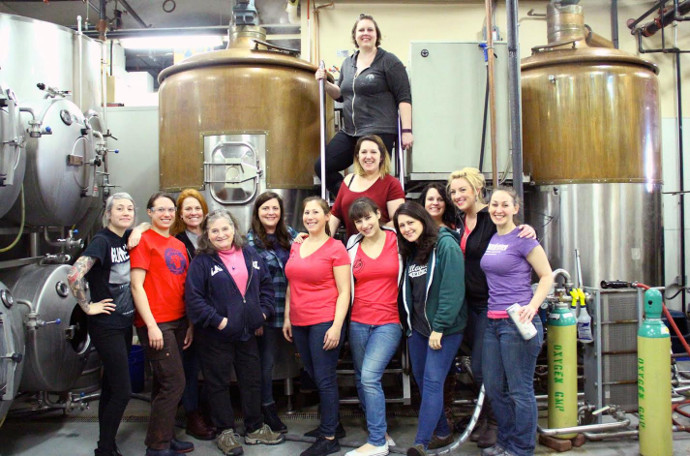 The different beers are expected to be released between the end of March and beginning of April. Portions of the proceeds will be donated to the Pink Boots Scholarship Fund. Sales from the Pink Boots Hop Blend will help amplify the fundraising power of this year's collaborations. "In the past two years we have had several local women awarded Pink Boots Scholarships," said Erin, " which in turn has helped them receive promotions, raises and furthering their careers in the beer industry."
About the Pink Boots Society: Pink Boots Society is an international nonprofit and USA tax-exempt 501(c)3 organization. We assist, encourage and inspire women beer professionals to advance their careers through education. Our 2,700+ members in the US and countries around the world are the beer industry leaders of tomorrow, and they inspire women consumers to choose beer as their adult beverage of choice. Sign up for our e-newsletters, shop our exclusive Pink Boots products, and more at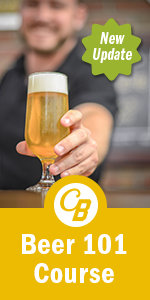 www.pinkbootssociety.org.
About Sly Fox Brewing Company: Sly Fox Brewing Company is a state-of-the-art regional craft production brewery with an adjoining tasting room in Pottstown, PA, opened in 2012 to complement its 21-year-old brewpub in nearby Phoenixville, PA. With current distribution in five states, including Pennsylvania, New York, New Jersey, Maryland, Virginia, and the District of Columbia, Sly Fox has continued to grow in popularity since its first brew in 1995.
About Zed's Beer: Zed's Beer/Bado Brewing in Marlton, NJ is a 5 barrel microbrewery specializing in Approachable Craft Beer. Co-Owners Geoff Bado and Lori White believe that craft beer doesn't have to be intimidating, so they focus on producing beer that is 5.5% ABV and lower and/or 42 IBUs and under. The tasting room at Zed's Beer features a rotating list of up to 12 beers, including core beers such as Zed's in the Universe—Pale 42 and Zed's in the Backyard—Copper Cream as well as seasonal offerings like Zed's in Oaxaca—Habanero Stout and Zed's in Wiltshire—Best Bitters (strong.) As Bado is fond of saying, "Beer should make you happy. It doesn't have to make you stupid." Zed's Beer/Bado Brewing is located at 19 North Maple Ave, Marlton, NJ. Tasting room hours are Thursday 4-9:30, Friday 4-10, Saturday noon-10 and Sunday noon-6:30. www.drinkzeds.com info@drinkzeds.com 856-872-7632
About Eight and Sand Beer: Eight & Sand Beer Co is a 10bbl brewery located in Woodbury, NJ fully devoted to quality craft beer brewed with patience, love, and with the local community in mind. The styles are traditionally European with an American flair – most of which are sessionable. Growlers, cans, and 22oz bottles are available for take-out; draft and cans are available at accounts across South Jersey and are inching further north all the time. Eight & Sand is open Thursday and Friday 5pm-10pm, Saturday 12pm-10pm, and Sunday 12pm-7pm.
Contact Info
Contact: Erin Wallace