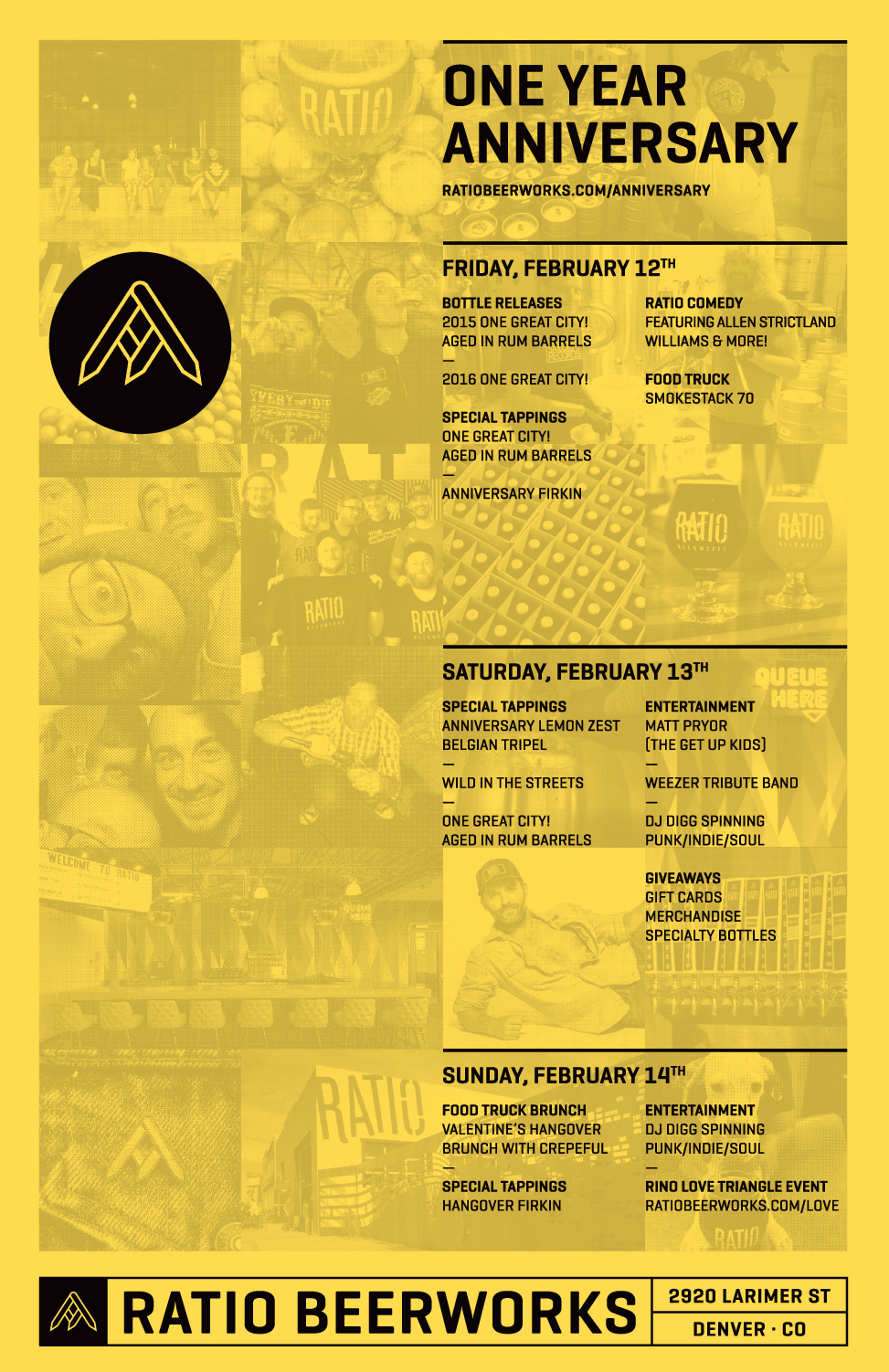 Ratio Beerworks Announces One Year Anniversary Party
FOR IMMEDIATE RELEASE
Ratio Beerworks Announces One Year Anniversary Party
Denver brewery celebrates first year in business with a weekend-long party.
Denver, Colo. (February 1, 2016) – Ratio Beerworks, located at 2920 Larimer St. in Denver, will be hosting its one year anniversary party over the weekend of February 12th, 13th and 14th. The brewery, which opened on Valentine's Day in 2015, will start the festivities at 12pm on February 12th in the RiNo™ Arts District of the historic Five Points neighborhood.
The celebration will kick off on Friday, February 12th, with the bottle release of Barrel Aged One Great City!, a Belgian Quadrupel aged 9 months in rum barrels. The beer will be available for purchase in 375ml bottles. A limited amount will be available on draught at the brewery that evening. Ratio will also release this year's version of One Great City! in 375ml bottles. Both bottles will feature commemorative complimentary label artwork inspired by Denver, Colorado. Package deals will be available.
The evening events on Friday will include an anniversary firkin, food truck, Smokestack70, and a very special edition of Ratio Comedy. Hosted by Andrew Bueno, the lineup will feature Los Angeles based comedian, Allen Strickland Williams, Nathan Lund, Matt Monroe, Timmi Lasley, Meghan DePonceau, Miriam Moreno and Ian Douglas Terry.
On Saturday, February 13th, the brewery will release its one year anniversary beer, a Belgian Tripel with lemon zest, at noon. Ratio will also re-tap a special, very limited, keg of Wild in the Streets, a Wild Saison Fermented in Oak Barrels, which was released in bottle format earlier this year. Other surprises may hit the taps during the party as well.
The afternoon and evening events will feature performances by Matt Pryor, frontman of legendary independent band, The Get Up Kids, as well as a Weezer Tribute Band featuring employees of Ratio Beerworks. DJ Digg will be spinning punk, indie and soul during the afternoon and evening as the party continues. Raffles and giveaways will take place throughout the day and Matt's Snack Shack will be out front providing food.
On Sunday, February 14th, the weekend celebration will close out with a Valentine's Hangover Brunch featuring sweet and savory crepes from Crepeful, a hangover firkin and another appearance from DJ Digg as he spins the jams that will ease your headache.
Ratio Beerworks will also take part in the Valentine's Day RiNo Love Triangle event alongside Epic Brewing and Rackhouse Pub. The three neighbors will be offering a progressive beer and cider dinner with stops at all three RiNo establishments. For more information please visit http://ratiobeerworks.com/love.
Ratio Beerworks operating hours for the weekend will be Friday and Saturday from 12pm to 12am, or until the party is over, and Sunday from 12pm to 10pm.
For more information and general anniversary party happenings please visit http://ratiobeerworks.com/anniversary or http://www.facebook.com/ratiobeerworks.
About:
Ratio Beerworks is a craft brewery that focuses on meticulously crafted beer served in an eclectic taproom located at 2920 Larimer St. in Denver, CO. For more information please visit ratiobeerworks.com.
Media Inquires:
Zach Lowery
Co-Founder and Marketer
Ratio Beerworks
(303) 374-4290
@ratiobeerworks
http://ratiobeerworks.com
###
Contact Info
Company: Ratio Beerworks
Contact: Zach Lowery
Email: hello@ratiobeerworks.com