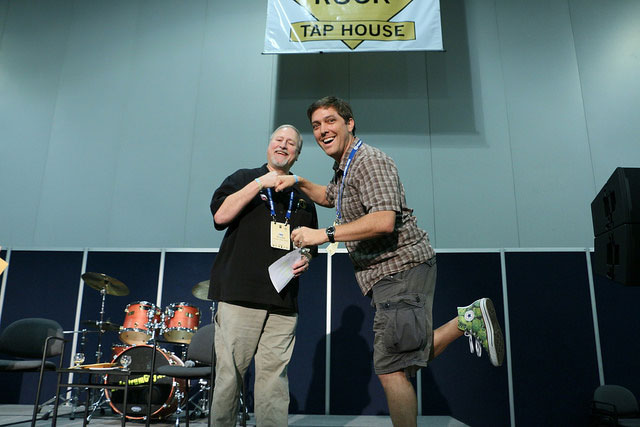 Results of the 2015 NAGBW Awards
FOR IMMEDIATE RELEASE  – September 28, 2015 – The North American Guild of Beer Writers (NAGBW) is pleased to announce the winners of its third annual competition for writers, bloggers, broadcasters and authors. Results of the NAGBW Awards were announced on Saturday, Sept. 26, 2015, in a ceremony in the Brewers Studio Pavilion venue, provided by the Brewers Association, at the Great American Beer Festival™ in Denver, CO.
The 2015 NAGBW Awards had 191 submissions in nine categories. The Local/ Regional category was the most competitive with 42 entries. Congratulations to the winners.
BEST BLOG
This Is Why I'm Drunk by Bryan Roth
Literature and Libation by Oliver Gray
The Beer Bible Blog by Jeff Alworth, All About Beer Magazine
BEST PODCAST
Strange Brews, hosts Andrew Gill and Alison Cuddy
Tales From the Cask, hosts Chip Mims, Tony Walldroff and Jennifer Balik
Beer O'Clock!, host Lisa Morrison
BEST FOOD WRITING
Feeding Frenzy by Jeff Cioletti, All About Beer Magazine
The When, Where and How of Proper Food Pairing by Marty Nachel, Jollity Magazine
The Potent Flavors of Barrel-aged Beer by Ken Weaver, FSR Magazine
BEST TRAVEL WRITING
Dusseldorf vs. Cologne: My two rounds of a friendly German beer bout by Will Hawkes, The Washington Post
Smoke and Shadow: Exploring lager's roots around Bamberg by Joe Stange, All About Beer Magazine
Oregon Breweries by Brian Yaeger, Stackpole Books
BEST SHORT FORM WRITING, (600 words or fewer)
A Theology Ph.D. is Putting His Faith in Brewing by Sarah Bennett, The L.A. Weekly
Wheatwine, A beer style to warm up your winter by Zak Stambor, Chicago Tribune
The Belgian Highlands by Drew Beechum, BeerAdvocate magazine
BEST HUMOR/ EDITORIAL WRITING
Pittsburghers, relax: The mayor is fixed, by Chris Togneri, Pittsburgh Tribune Review
Hop Farm Harmony by Josh Noel, Chicago Tribune
IPA Spinoffs: The Rise of the India Silly Ale by Brian Yaeger, All About Beer Magazine online
BEST HISTORY/ TECHNICAL WRITING
Brew Britannia by Jessica Boak and Ray Bailey, pub. Aurum Press
Experimental Homebrewing by Drew Beechum and Denny Conn, pub. Voyageur Press
Practical Parti-Gyle Brewing by Joe Stange, Craft Beer and Brewing Magazine
BEST LOCAL/ REGIONAL WRITING
Alaska Beer: Liquid Gold in the Land of the Midnight Sun by William Howell pub. Arcadia Publishing
Creativity is the name of the game by Patrick Evans, Grand Rapids Business Journal
Casey Brewing and Blending finds the sweet life with sour beers by Eric Gorski, The Denver Post
BEST NATIONAL/ INTERNATIONAL WRITING
Unlocking the Secrets of Smell by Aleszu Bajak, BeerAdvocate magazine
Craft: What does it mean anymore? by Joshua Bernstein, Imbibe Magazine
Stocking the Cellar without Breaking the Bank by Patrick Dawson, Craft Beer and Brewing Magazine
ABOUT THE NORTH AMERICAN GUILD OF BEER WRITERS – The NAGBW has over 200 members from USA, Canada, United Kingdom and Europe. Guild membership is open to all writers and content producers who cover beer and brewing, although industry and associate memberships are both non-voting categories. For more information on membership or the Awards, visit http://www.nagbw.org or follow us on Twitter @NAGBW.
Photo: Gail Ann Williams Caption: NAGBW Co-Founder Jay Brooks presents award to Brian Yaeger
Contact Info
Company: North American Guild of Beer Writers
Contact: Erika Bolden
Email: Erika@nagbw.org