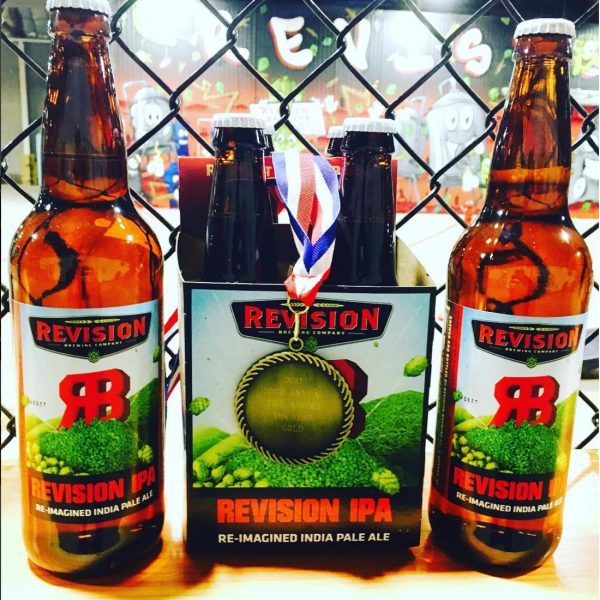 Revision Brewing Company's IPA Takes Home the Gold at the 20th Annual IPA Festival at the Bistro
SPARKS, NV. (April 10, 2017) – Saturday, April 8th was an epic day for the new brewery, Revision Brewing Company out of northern Nevada. A mere seventeen days after Revision Brewing Company's soft opening, Brewmaster Jeremy Warren and Head Brewer Jeb Taylor's Revision IPA won the 1st place Gold medal at the 20th annual IPA Festival at the Bistro in Hayward, California.
Brewmaster, Jeremy Warren had been waiting for a chance to compete with another one of his beers since he parted ways from his previous brewery in 2015. A total of fifty-three IPAs were judged in a blind tasting and among them was Knee Deep's Breaking Bud which won the 3rd place Bronze medal on Saturday. Jeremy Warren created Breaking Bud just prior to leaving Knee Deep Brewing Company. It took a year and eight months to get Revision Brewing Company open and with this only being the second batch of Revision IPA brewed, it was a very emotional win.
20th annual IPA Festival Winners – 2017
Gold Medal: Revision IPA by Revision Brewing
Silver Medal: Pulp Free by Fieldwork Brewing
Bronze Medal: Breaking Bud by Knee Deep Brewing
Honorable Mention: TropiCali Dank by Tap It Brewing
People's Choice: 3 Headed Hop Monster by Melvin Brewing
Contact Info
Company: Revision Brewing Company
Contact: Darla
Email: darla@revisionbeer.com