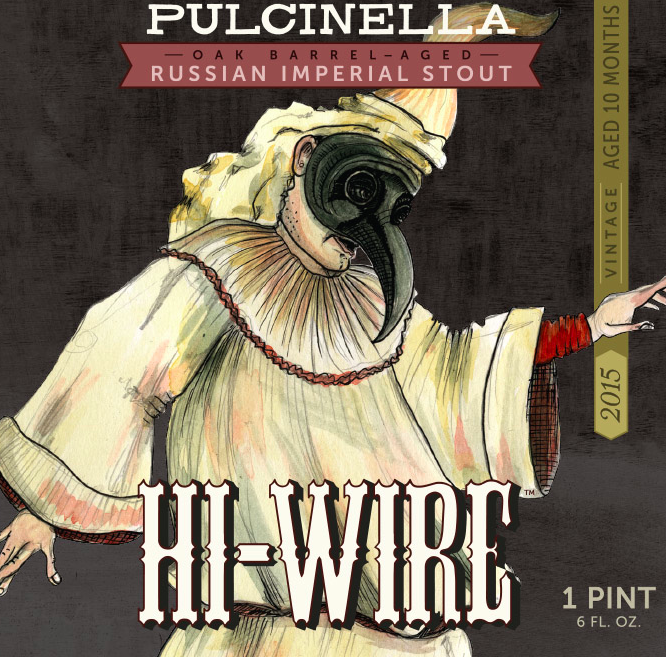 Hi-Wire Brewing throws Inaugural Stout Bout November 7th to celebrate once-a-year release of Pulcinella Russian Imperial Stout
ASHEVILLE — Hi-Wire Brewing is gearing up for the release of their anticipated Pulcinella Russian Imperial Stout, an illustrious stout aged in oak barrels for 10 months. To celebrate this release, they will host the inaugural Stout Bout at their Big Top Brewery (2 Huntsman Place, Asheville, NC 28803) from 1 – 5pm on Saturday, November 7th.
The Stout Bout blends a traditional beer festival with a blind tasting; from 1-3pm attendees will not know which brewery brewed which beer. During this time craft beer drinkers will be able to taste as many beers as they wish and cast a vote for their favorite. After 3pm the voting will close and more in depth information will be available for those who want to know more about what they are enjoying and order a full pint.
The Stout Bout will highlight an incredible variety of stouts from a number of different breweries located across the Southeast. These beers include, but are not limited to: a tart cherry, coffee stout (6.5% ABV); two imperial coffee stouts (8% and 9% ABV); a chocolate coffee stout (8.3%); a honey raspberry stout (10%); an imperial oyster stout (10% ABV); a hopped imperial stout (8% ABV); three barrel-aged stouts (12.9%, 9% and 6.9% ABV); a coffee, serrano and cocoa nib stout (5.7% ABV); two coffee milk stouts (5.3% and 5.5% ABV); a pumpkin, chocolate milk stout (6% ABV) and a variety of small batch, one-off stouts brewed just for the occasion.
A five dollar fee includes entrance into the bout and a commemorative tasting glass. Attendees will have the opportunity to to purchase beer tokens that allow for samples or full pours of the specialty beers. In an attempt to give back to the community, anyone who donates a jacket or pair of gloves will receive free entrance into the event. All coats collected will be donated to Western Carolina Rescue Mission to support their work in clothing the neediest in our community.
Please be aware that the Stout Bout is an outdoor event. Even though there will be ways to keep warm, everyone is encouraged to wear weather appropriate clothing.
About Pulcinella Russian Imperial Stout
Pulcinella Russian Imperial Stout is released by Hi-Wire Brewing once-a-year in November. Named after the historical theatre figure who is said to have influenced the modern clown, this beer spends 10 months in Napa Valley Zinfandel, Kentucky bourbon and North Carolina dark rum barrels. The complexity of the barrels impart big roast and molasses flavors that are paired with notes of chocolate and vanilla. Bottles of Pulcinella will be available for sale at the event for $10 with a limit of 6 bottles per person.
About Hi-Wire Brewing
Located in Asheville, NC, Hi-Wire Brewing is known for producing approachable and balanced ales and lagers, most notably Hi-Wire Lager, Prime Time Session Pale Ale, Bed of Nails Brown, and Hi-Pitch IPA. Hi-Wire was awarded the most medals at the 2014 NC Brewer's Cup and Best New North Carolina Brewery of 2013 by RateBeer. Hi-Wire's award-winning beers can be found on draft and in bottles across North Carolina. As of July 25th, craft beer drinkers are able to enjoy Hi-Wire beer at their new Big Top location, a 27,000 square foot production facility located a half a mile from the Biltmore Estate. In addition to their flagship beers, Hi-Wire offers a rotating selection of seasonals, including Lion Tamer Rye IPA, Strongman Coffee Stout, Zirkusfest Oktoberfest Lager and Twice as Nice Doppelbock as well as a variety of single release beers brewed and bottled in their South Slope Taproom and Brewery. Learn more about the company at www.hiwirebrewing.com
Contact Info
Company: Hi-Wire Brewing
Contact: Abigail Dickinson
Email: abby@hiwirebrewing.com