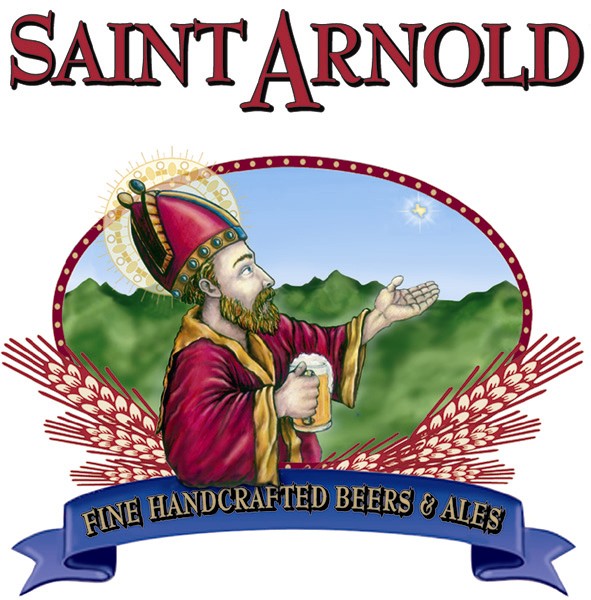 Saint Arnold Brewing Co. to Join Colorado Craft Beer Scene
After 19 years, time is right for Colorado's Front Range to get a taste of Texas craft brewing
HOUSTON, August 5, 2013 – Saint Arnold Brewing Co. (www.saintarnold.com), the oldest craft brewery in Texas, today disclosed plans to begin distributing its beer along Colorado's Front Range – the epicenter of American craft brewing. Saint Arnold will begin with offering year-round beers including Saint Arnold Fancy Lawnmower Beer, Saint Arnold Elissa IPA and Santo, as well as its complete seasonal series. Additionally, Coloradoans can look forward to receiving special releases including Saint Arnold Pumpkinator, Saint Arnold Divine Reserve and Saint Arnold Bishop's Barrel. The first shipment of Lawnmower, Elissa and Santo will arrive in Colorado in mid-September.
During its first 19 years, Saint Arnold – named for Saint Arnold of Metz, the patron saint of brewers – has quietly established a solid reputation throughout Texas and among other brewers for making world class beer. Over the years, Saint Arnold's beers have been recognized with 16 medals at the Great American Beer Festival and 10 World Beer Cup awards.
Saint Arnold's beers include:
Year-round:
Saint Arnold Amber Ale
Saint Arnold Brown Ale
Saint Arnold Elissa IPA
Saint Arnold Endeavour
Saint Arnold Fancy Lawnmower
Saint Arnold Weedwacker
Seasonal:  
Santo Saint Arnold Spring Bock
Saint Arnold Summer Pils
Saint Arnold Oktoberfest
Saint Arnold Pumpkinator
Saint Arnold Christmas Ale
Saint Arnold Winter Stout
Special series:
Saint Arnold Divine Reserve
Saint Arnold Icon Series
Saint Arnold Bishop's Barrel
Under the leadership of Founder/Brewer Brock Wagner, the emphasis has been on quality, and growth has been steady and manageable. For its first 16 years, Saint Arnold was only available in Texas. In late 2010, Saint Arnold expanded into Louisiana. Despite its limited geographic reach, Saint Arnold is ranked 45th on the Brewers Association list of top craft breweries.
"We've had many requests from Colorado over the years for our beers," said Wagner. "The requests come from both transplanted Texans as well as the many people from Colorado who travel to Texas for business. Our answer had always been, 'There are already lots of great beers in Colorado.' But recently, with both the increase in interest from Colorado and one of our key people moving there, we felt like we could build community there as we have in Texas and Louisiana."
Saint Arnold has appointed Nicole Froland to lead the brewery's Colorado sales efforts. She headed Saint Arnold's successful push into Louisiana.
Established in 1994, Saint Arnold Brewing operates out of a 104,000 square foot 3-story brick building originally constructed in 1914 that sits on the northern edge of downtown Houston. Saint Arnold's brewhouse, which was imported from Klosterbrauerei Raitenhaslach, a Bavarian monastery, has an annual capacity of 90,000 barrels. Daily tours and special events attract 100,000 people to the brewery annually, making it one of Houston's top tourist destinations.
About Saint Arnold Brewing Company
Saint Arnold Brewing's 16 brews are made and sold by the company's staff of 52 dedicated employees. Ranked 45th on the Brewers Association list of top craft breweries, Saint Arnold was listed by USA Today as one of the "10 great places to see what's brewing in beer," and Smart Meetings magazine named it among the "Top 5 breweries to host an event." Saint Arnold is located at 2000 Lyons Avenue and its brewery tour and tasting is offered every weekday at 3:00 P.M. and Saturdays starting at 11 A.M. For more information on Saint Arnold's seven year-round and five seasonal beers as well as root beer, log on to www.saintarnold.com.
Contact Info
Company: DPK Public Relations for Saint Arnold Brewing Co.
Contact: Daniel Keeney
Email: dan@dpkpr.com