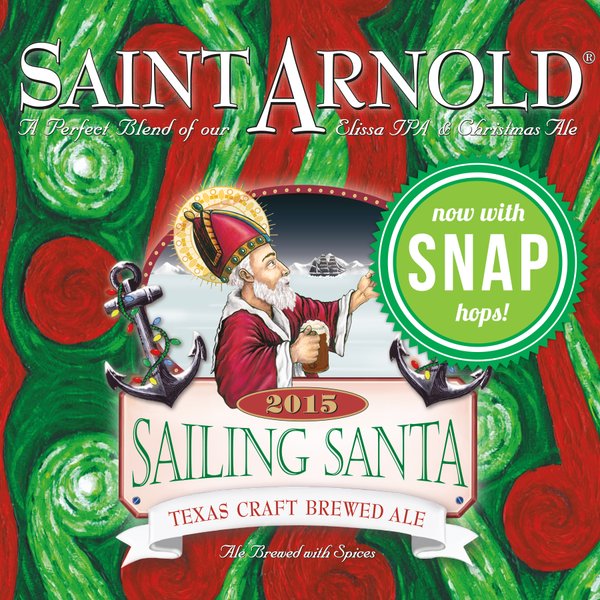 Saint Arnold Sailing Santa Adds Some Snap to the Holidays
The Brewery's Four Winter Seasonal Beers are a Sure Sign of Winter in Texas
HOUSTON, November 16, 2015 – With temperatures in the 80s just last week, it may not feel as if the holidays are around the corner, but Saint Arnold's latest release will have you looking for your stocking cap and mittens. Saint Arnold Brewing Co. (www.saintarnold.com), the oldest craft brewery in Texas, today releases its annual Sailing Santa holiday seasonal – this year featuring a brand new hop, called Snap hops, which is a blend of hops and spices.
Available only in 22-ounce bottles, Sailing Santa is scheduled to begin appearing in stores throughout Texas and select Louisiana markets today. The festive red and green label features the familiar profile of Saint Arnold with anchors adorned with Christmas lights. Saint Arnold produced a single 120 barrel batch, which translates to approximately 1,800 cases of twelve 22-ounce bombers.
Saint Arnold's community of beer lovers inspired the Sailing Santa blend, which was conceived as a fairly simple blend of Saint Arnold Christmas Ale and Saint Arnold Elissa IPA. However, Sailing Santa has evolved during the five years since being introduced. First, spices were added and the mixture of the two beers was tweaked. Now Snap hops were added at the end of fermentation, resulting in a ginger snap aroma.
"While blending beer can achieve flavors and complexity that can't be created in a single style or recipe, today's Sailing Santa is a lot different than simply a blend," said Saint Arnold Founder/Brewer Brock Wagner. "We brew a batch of Christmas Ale, then a batch of Elissa IPA and blend them in the fermenter. At the end of fermentation, we add Snap hops and cinnamon and other spices. This is our fifth year, and each year we change the mix slightly, which is one of the fun aspects of blending."
Specifications:
Alcohol Content: 7.2% ABV Bitterness: 45 IBUs
Saint Arnold Sailing Santa is the brewery's third winter seasonal release with one more on the way. It started last month with the release of Saint Arnold Pumpkinator and Saint Arnold Christmas Ale. The final winter seasonal, Saint Arnold Winter Stout, is scheduled for release in mid-December as supplies of Saint Arnold Christmas Ale run out.
"Each of our winter seasonals offers a little something different to complement and enhance a holiday meal," said Wagner.
About Saint Arnold Brewing Company
Saint Arnold Brewing's 16 brews are made and sold by the company's staff of 80 dedicated employees. Ranked 46th on the Brewers Association list of top craft breweries, Saint Arnold was listed by USA Today as one of the "10 great places to see what's brewing in beer," and Smart Meetings magazine named it among the "Top 5 breweries to host an event." Saint Arnold is located at 2000 Lyons Avenue and its brewery tour and tasting is offered every weekday at 3:00 P.M. and Saturdays starting at 11 A.M. For more information on Saint Arnold's eight year-round and five seasonal beers as well as root beer, log on to www.saintarnold.com.
Contact Info
Company: DPK Public Relations for Saint Arnold Brewing Co.
Contact: Daniel Keeney
Email: dan@dpkpr.com