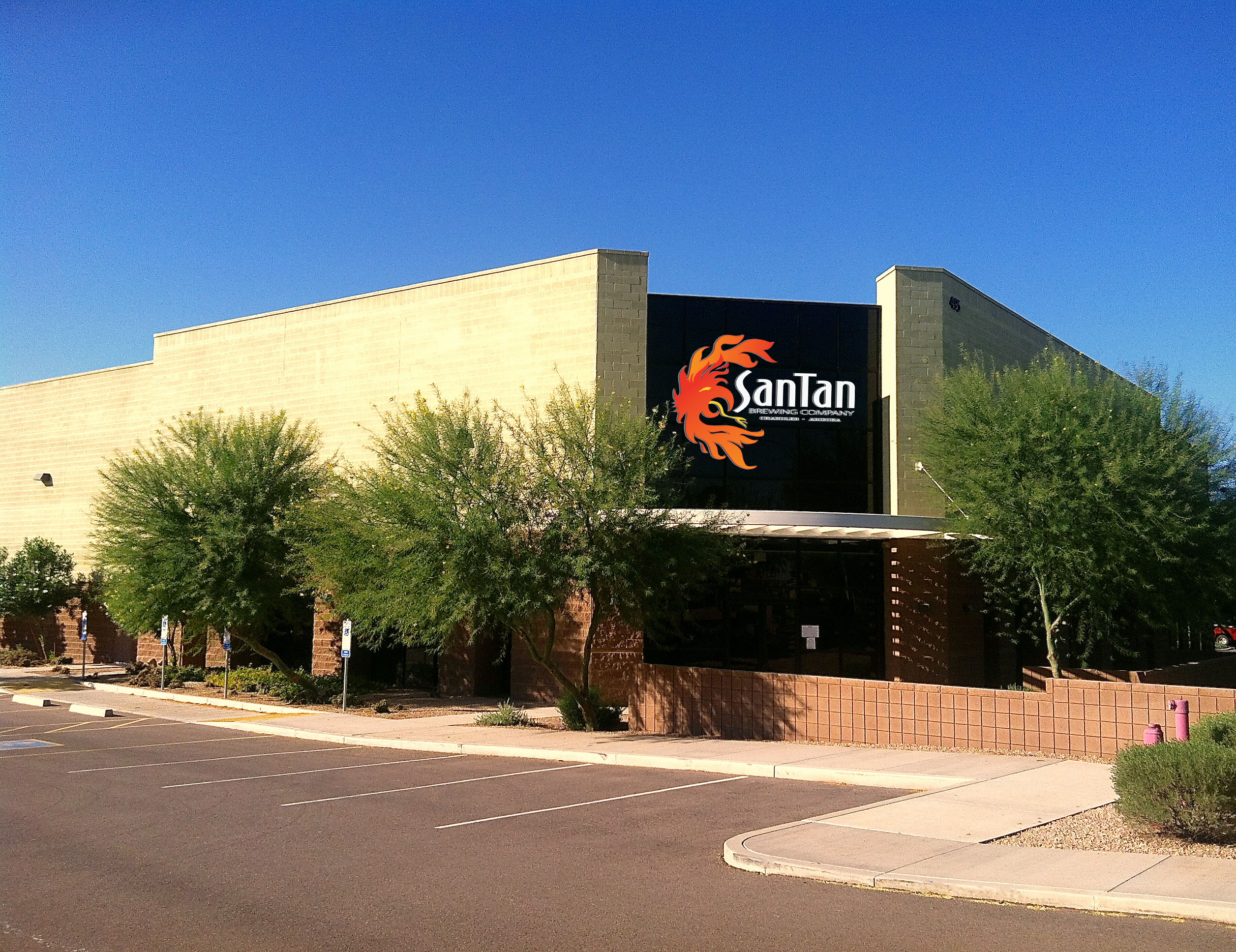 SanTan Brewing Company to Open Second Production Facility in Chandler by May, 2013
With plans for regional and national distribution, SanTan Brewing Company expands brewing to new 35,000 sq. ft. facility 
Chandler, Arizona (February 5, 2013)—SanTan Brewing Company, Arizona's fastest growing brewery has announced plans for expansion to a new 35,000 sq. ft. distribution facility. Showcasing over 100% growth in the local Arizona market for three consecutive years and a strong partnership with Arizona's World Class Beverages Distributors, SanTan Brewing Company has earned a reputation as an Arizona leader in award winning handcrafted beer.
The new location will serve primarily as a warehouse and production center, located at 495 E Warner Road, Chandler, AZ 85225.
"It is important for us to grow but also to keep our brewing and distribution in the city of Chandler, we've been looking for the perfect location for more than two years. I'm thrilled to announce we've found it," said owner and head brewer, Anthony Canecchia. 
On the heels of a $4M brewery addition at the current location, SanTan Brewing has continued to invest in its community and has added 125 new jobs to Chandler over the last 3 years. SanTan projects similar levels of growth for 2013 and 2014.
Christine Mackay, director of economic development for the City of Chandler said, "SanTan Brewery has been a hometown success story since the day it opened, and I personally love to see their name and brewed in Chandler, AZ on menus all over the state. The expansion of their company is going to help take their business to the next level."
SanTan Brewing Company plans to invest $6M into the development of the new location which will bring an estimated 25 new jobs within the first year. Job opportunities will include a quality control manager, national sales director, supply chain manager, package supervisors and a shop manager. The new location will have the capacity to brew and can over 500,000 cases of beer with a brand new 50 barrel brewhouse system. The first batch is expected by May, 2013.
"The most important part of what we do is maintaining quality. The new brewery will allow us to expand our quality control lab to ensure that our craft beer is always the highest quality and consistent," remarked Canecchia. 
SanTan Brewing Company has been canning their four core brews; Devil's Ale, HefeWeizen Wheat, Epicenter Amber Ale and HopShock I.P.A. for two years and recently became the first brewery in Arizona to can their seasonal offerings.
By moving the large volume of production to the new location, SanTan brewers will have more creative freedom to brew small batches, limited releases and specialty beers at the newly dubbed "SanTan Laboratory"! 
About SanTan Brewing Company
Open since 2007 under the leadership of head brewer and owner, Anthony Canecchia, SanTan Brewing Company has established a strong reputation as Arizona's favorite craft beer. In addition to brewing, SanTan features a friendly neighborhood brewpub in Downtown Chandler, which has quickly become one of the top local food and beer destinations in the East Valley.
In 2009, SanTan Brewing began distributing their core and seasonal brews throughout the state of Arizona, operating with a mission to pair craft beer with craft food that would inspire great conversation and good times. The brewpub and SanTan beers have won numerous national and statewide awards including a silver medal at the 2011 Great American Beer Festival, a gold medal at the 2012 US Open Beer Championships and 2011 Best Brewery in Arizona, selected by the Phoenix New Times.
Visit SanTan Brewing Company at 8 S. San Marcos Place, Chandler, AZ. They're open Sunday-Thursday, 11 a.m.- 1am and Friday-Saturday, 11 a.m. – 2 a.m. Also, check out SanTan Brewing Company online at www.santanbrewing.com and become a fan on Facebook at www.facebook.com/SanTanBrewingCo or follow them www.twitter.com/SanTanBrewing for more information on upcoming specials and promotions.
Contact Info
Company: HDE Agency
Contact: Jen Pruett
Email: jen@hdeagency.com