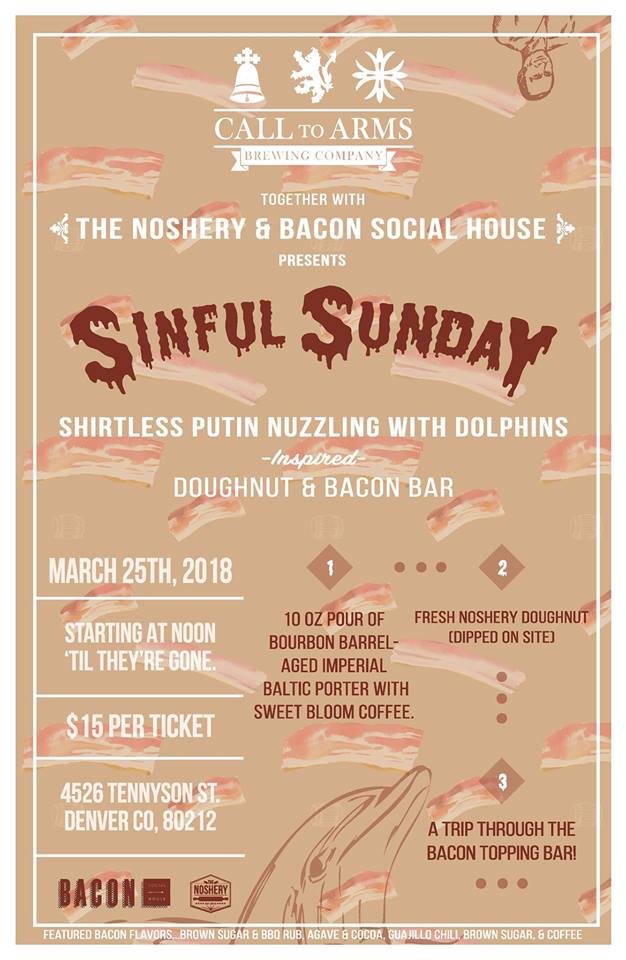 Call to Arms Presents Sinful Sunday
Together with The Noshery and Bacon Social House, Call to Arms Brewing Company presents our very first…Sinful Sunday! Starting your Sunday Fun Day off right as only the most grownup of grownups should, with an 11.7%abv beer, bacon, and doughnuts. 
Inspired by our Bourbon Barrel-Aged Imperial Baltic Porter with Sweet Bloom Coffee Roasters Coffee (releasing Thursday, March 22nd), we have created a Doughnut & Bacon Bar that dreams are made of.
$15 gets you a 10oz pour of Shirtless Putin Nuzzling with Dolphins paired with a fresh Noshery Doughnut dipped on site & a trip through the Bacon Topping Bar.
Featured Bacon Social House bacons in the topping bar…1) Brown Sugar & BBQ Rub, 2) Agave & Cocoa, and 3) Guajillo Chili, Brown Sugar, & Coffee.
No tickets involved, just show up. Noon 'til they're gone! And they're gonna go fast.
The event will be held at Call to Arms Brewing Company (4526 Tennyson St, Denver, Colorado 80212) on March 25 from 12:00 p.m. – 3:00 p.m.
Contact Info
Contact: Emily Trigg
Email: emily@lexapr.com