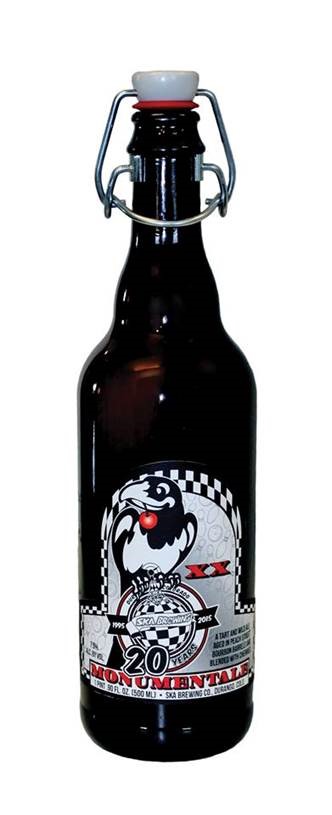 Ska Brewing Celebrates Large, Round Number Anniversary
DURANGO, Colo., (Friday, Sept. 8, 2015) —Ska Brewing will be celebrating another birthday next weekend, but not an awkward number like 14 or 19 (yuck!) On September 12, Ska will be celebrating a large, round number with style.
Ska Brewing's 20th Anniversary Party and Brewer's Invitational will be held at Ska Brewing World Headquarters in Durango from 4-9 p.m., offering partygoers a festival atmosphere with three bands and over 30 guest breweries pouring beer. Ska punk band Reel Big Fish will headline the sold-out event, with support from Mad Caddies. Colorado favorites Denver Vintage Reggae Society are slated to kick off the music.
"20 years ago we were just a toddler brewery, stumbling around taking our first steps," said Dave Thibodeau, Ska President and Co-Founder. "We still stumble, actually, but over time we learned to share things, make friends, and throw great parties. We've put all of those skills together and invited a slew of great breweries to Durango to celebrate the big 2-0."
Ska Co-Founder Matt Vincent put it more simply: "That two has tons of style, and the zero speaks for itself. Two syllables… it's just a cool number. We're going to do it justice."
Many of the guest breweries in attendance will be pouring special or limited-release beers, including a few Ska collaborations. Ska, in honor of its big round number anniversary, has brewed up a very special, blended sour for exclusive release at the Anniversary Party: "Monumentale" is a blend of three sours fermented with Lacto and Brett and aged for 1, 3 and 5 years respectively, in Peach Street Distillers Colorado Straight Bourbon barrels. Sweet and tart cherries were then added and the result is a funky, tart, refreshing beer—with an underlying cherry sweetness that doesn't punch you in the mouth.
Guest breweries attending include: Animas Brewing, Avery, Boulevard, Breckenridge, Brew, Carvers, Dogfish Head, Dolores River Brewery, Durango Brewing, Elevation, Epic, Firestone Walker, Great Divide, Huss, La Cumbre, Left Hand, Liquid Mechanics, Marble, Odell, Oskar Blues, Ouray, Pagosa, Ratio, Riff Raff, San Luis Valley, Santa Fe, Ska, Steamworks, Stone, Telluride, Three Barrel, Three Rivers and Wynkoop
This event is sold out. Keep a lookout for next year's announcement though… Ska's turning 21!
About Ska Brewing
Based in Durango, Colorado, Ska Brewing was founded in 1995 and produces over a dozen award-winning beers. Many of Ska's brews are widely available in cans including ESB Special Ale, True Blonde Ale, Modus Hoperandi IPA and rotating seasonals. For information (a lot of it), music, and a good time, visit www.skabrewing.com. Plug in to the latest updates, beer releases and shenanigans at facebook.com/skabrew and twitter.com/skabrewing.