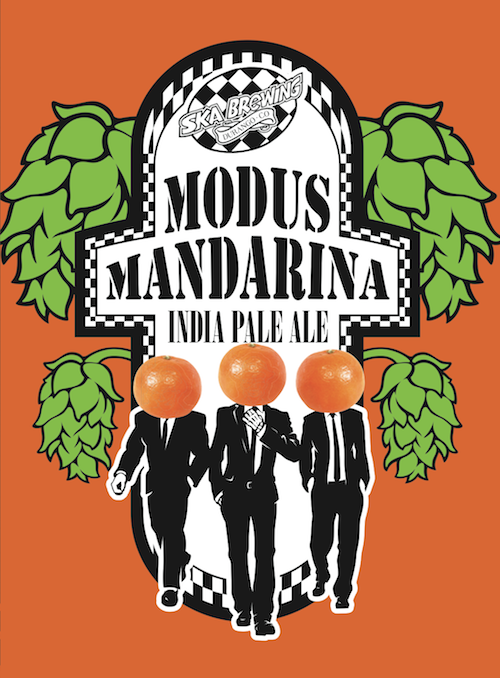 Ska Brewing to Release Modus Mandarina
Durango, CO., (September 17, 2015)- Ska Brewing is announcing the release of Modus Mandarina IPA, an India Pale Ale brewed with orange peels and generously hopped with Mandarina Bavaria hops. The release will coincide with the Great American Beer Festival the week of September 21.
The beer originally brewed 3 years ago as a special release, is the first cousin of Ska's award winning Modus Hoperandi—brewed essentially the same but with a citrus twist.
"The dry-hopped addition of the Mandarina Bavaria give the beer a distinct aroma of tangerine and citrus," said Thomas Larsen, head brewer at Ska. "However, the orange peels added to the beer give it just a subtle touch of orange in the flavor profile."
Modus Mandarina will see its initial release at various Ska Brewing events throughout Denver during the week of the Great American Beer Festival, and will also be distributed initially throughout Colorado, Southern California, Arizona and Illinois. A complete list of Ska's events during the Great American Beer Fest can be found at www.skabrewing.com.
About Ska Brewing Based in Durango, Colorado, Ska Brewing was founded in 1995 and produces over a dozen award-winning beers. Many of Ska's brews are widely available in cans including ESB Special Ale, True Blonde Ale, Modus Hoperandi IPA and rotating seasonals. For information (a lot of it), music, and a good time, visit www.skabrewing.com. Plug in to the latest updates, beer releases and shenanigans at facebook.com/skabrew and twitter.com/skabrewing.