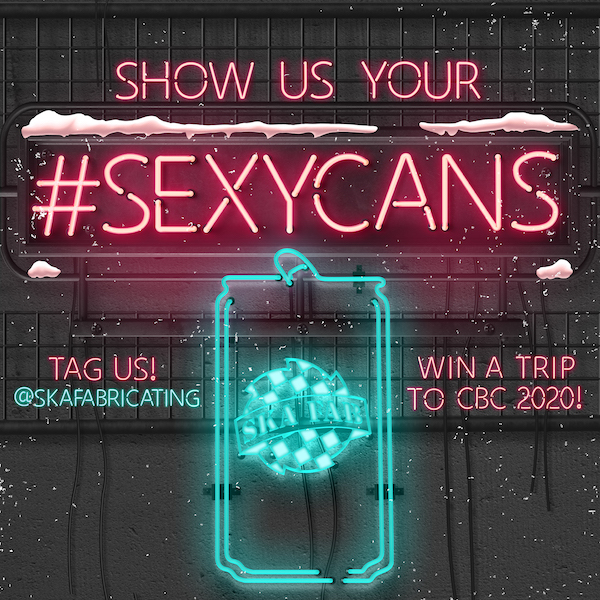 Ska Fabricating Brings Sexy Cans Photo Contest Back
DURANGO, CO—  Ska Fabricating is bringing its #SexyCans campaign back for the second time in 2019. This photo contest celebrates the thriving online craft beverage community and the rise of canned beverage artistry around the world. Ska Fab will reward one lucky participant with an all-expense-paid trip to the 2020 Craft Brewers Conference in San Antonio, Texas.
Cans are quickly gaining popularity as infinitely recyclable vessels with a 360° canvas so everyone has a favorite can or two, either because of what's in it or what's on it. The #SexyCans contest is every drinker's opportunity to turn a picture of that can into an awesome prize! Starting December 1, 2019, submit your favorite craft can photos to this contest by posting them to Instagram, Facebook or Twitter with the hashtag #sexycans and tagging @skafabricating. Post as many entries as you like – the more, the merrier! Every participant will receive a package of winter Ska Fab schwag.
All entries are due by Sunday, March 1 with the winner announced Monday, March 2. All entrants must be at least 21 years old. The winner of this #sexycans photo contest will receive a trip for one to the 2020 Craft Brewers Conference, taking place in San Antonio, Texas from April 19 through 22. This prize includes flights, hotel accommodations, and a full conference badge.
Badge holders at the 2020 Craft Brewers Conference are invited to join Ska Fabricating and friends at Craft After Dark on Tuesday, April 21 at The Rock Box. Galactic will headline this event with support from San Antonio's rockin' local talent. The nonprofit recipient will be announced in the coming months.
For more information about #sexycans or Ska Fabricating, contact Emily Hutto at hutto@radcraftbeer.com.
ABOUT SKA FABRICATING
Founded by Ska Brewing Co-Owner Matt Vincent, Ska Fabricating automates packaging lines for craft businesses, specializing in depalletizers, palletizers, conveyance systems, rinsing, drying, fill detection and date coding products. With more than 800 customers worldwide, Ska Fab has the products and experience to help you increase your production while saving expense. Learn more at skafabricating.com.
Contact Info
Company: RadCraft
Contact: Emily Hutto
Email: hutto@radcraftbeer.com