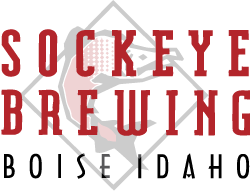 Sockeye Brewing Expands Distribution into Eastern Washington
FOR IMMEDIATE RELEASE
Boise, ID and Spokane Valley, WA-December 27, 2013.   Idaho-based Sockeye Brewing has partnered with King Beverage Inc. distributing to supply its award-winning brand in cans and kegs to Eastern Washington.  The well-established brewing company has spent its first year of distribution shipping craft beer from Boise throughout the state of Idaho and is now expanding into Washington.  King Beverage Inc. has partnered with Sockeye Brewing to add the brewery's favoured styles to their craft beer portfolio for distribution, including 12oz cans of Dagger Falls IPA, Powerhouse Porter, Galena Gold, Hell Diver Pale Ale, and 4 packs of their Seasonal 16oz offerings.  The brewery will also offer all these styles and others in 50 Litre and 1/6 barrel kegs to tap houses and restaurants throughout the new region beginning January 6th, 2014.
In its first year of distribution throughout the state of Idaho, Sockeye Brewing has experienced huge growth, adding new tanks, production equipment and staff to accommodate orders for the craft beer brand.  Now successfully entered into the canned craft market with their flagship Dagger Falls IPA, Sockeye has four other styles available in cans for distribution in retail chains like Albertsons, Fred Meyer, Super 1 Foods, Maverik, Jacksons, Wal-Mart and even Costco.  The company has already achieved making it's brand available to all Idaho beer fans desiring a tasty craft brew no matter what hard to reach town, trail or river they live near.  The move into Spokane Valley makes perfect sense for both companies.  "Our Northern distribution includes shipment near the Spokane area already."  Said Tylar Bell, Sockeye Brewing's Director of Sales.  "We have been considering the area and after meeting with King Beverage, we are impressed with KBI's craft beer ambitions and coverage.  We believe they are the right company to help us easily meet our 2014 distribution goals for a new region."  Sockeye Brewing now has the production capacity to properly enter new markets outside of Idaho and is ready to maximize distribution in new Northwest regions.  "We have grown so much in the past year," says Josh King, Sockeye's Head Brewer, "that we're finally able to make great beer in big volumes and to share it with so many more fans.  We've been spoiled for years sharing with each other close to home, so having made that step into distribution lets us spoil more people with really great beer.  For a brewer or even a fan who loves the craft as much as us it's pretty sweet success."  The company is a steadfast supporter of using high quality Northwest ingredients to make exceptional beer.
About King Beverage:  King Beverage is a beer distribution company In Washington that provides a variety of alcoholic and nonalcoholic beverages. It operates refrigerated warehouses in Spokane, Union Gap, Chehalis and Pasco.  The company offers a range of craft beer brands, such as Elysian, Firestone Walker, Ninkasi, Kona, Northwest Brewing, Riverport, Russell, Widmer, Redhook and other larger breweries. King Beverage Inc. has been expanding its craft beer portfolio in recent years to become the premier, customer driven wholesale distributer of craft beer in the Pacific Northwest. King Beverage Inc. is a part of Anheuser-Busch Companies, which also maintain a presence in China and the United Kingdom.  KBI Craft is a division of King Beverage Inc. based in Spokane Valley, Washington.  Learn more about King Beverage at facebook.KbiCraft or twitter.KBICraft .
About Sockeye Brewing:  An experienced leader in craft beer excellence and now production distribution in Idaho, Sockeye Brewing was founded in 1996.  Offered first as a handcrafted beer option to local tap houses, Sockeye Brewing eventually became a full service restaurant and brewery that continues to grow with the rising demand for quality craft beer in Idaho.  In the fall of 2012, Sockeye expanded production by adding a second brewing location including a 20bbl brew house, a canning line, and began statewide distribution in Idaho.  In July of 2013, the company also expanded its team of award-winning brewers, added more fermentation space and once again increased production.  Today, Sockeye Brewing offers a team of exemplary brewers recognized by a collection of over 100 awards of excellence in craft brewing from competitions including the World Beer Cup, Great American Beer Festival, North American Beer Awards, and others.  Sockeye Brewing continues to make great handcrafted ales and lagers, increasing production and distribution, and will be opening its second pub early in 2014.  Learn more about Sockeye Brewing at facebook.SockeyeBrew or twitter.SockeyeBrew .
Contact:  Dawn Bolen, Media Relations
Company:  Sockeye Brewing
Contact Info
Company: Sockeye Brewing
Contact: Dawn Bolen
Email: dawnbolen@sockeyebrew.com