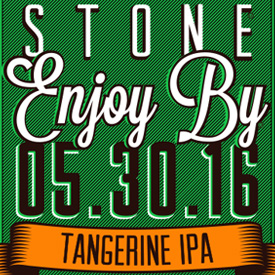 Stone Enjoy By 05.30.16 Tangerine IPA is now ripe for the picking
ESCONDIDO, CA (April 25, 2016) – When it comes to freshness, Stone Brewing is known for pushing boundaries. Perhaps the craft brewery's greatest commitment to freshness comes in the form of the Stone Enjoy By IPA series, which this week offers a new recipe showcasing the juicy awesomeness of tangerine. Stone Enjoy By 05.30.16 Tangerine IPA is now ripe for the picking.
For those hopheads with summer already on the mind, this tangy, fresh IPA was brewed to enjoy now. The vibrant flavors are gloriously jam-packed using more than ten hop varietals and puréed tangerines to add a hop-pushing twist to this double IPA.
"The Stone Enjoy By IPA series was developed to demonstrate the importance of fresh beer," said Stone Brewmaster Mitch Steele. "In addition to our Stone Enjoy By Black IPA and Stone Enjoy By Unfiltered IPA variations, we wanted to introduce something fans would enjoy drinking this summer. We chose to infuse our original Stone Enjoy By IPA recipe with tangerine, and the result is something remarkably refreshing that contributes uniquely to the massive hop flavor."
Stone Enjoy By 05.30.16 Tangerine IPA will be available in 22-ounce bottles, 12-ounce bottles in six-packs, and on draft beginning this week. Brewed to be enjoyed within 37 days, this date-driven series of devastatingly fresh double IPAs serves as an encouragement for fans to live in the NOW.
Fans can share their #EnjoyByTangerine experiences on Twitter and Instagram and check in on Untappd. Tweets, photos and check-ins are then shared on the beer's social wall.
Name: Stone Enjoy By 05.30.16 Tangerine IPA URL: enjoyby.stonebrewing.com Stats: 9.4% ABV, 90 IBUs Availability: 22-ounce bottles, 12-ounce bottles and draft, beginning April 25 Hops Varieties: Nugget, Super Galena, Simcoe, Amarillo, Delta, Target, Cascade, Citra, Galaxy, Nelson Sauvin, Motueka and Helga Distribution: AK, AL, CA, CO, CT, DC, DE, FL, GA, IA, ID, IL, IN, KS, KY, LA, MA, ME, MI, MN, MO, MT, NE, NH, NJ, NM, NV, NY, OH, OR, PA, RI, SC, TN, VA, VT, WA and Puerto Rico
Tasting notes, provided by Brewmaster Mitch Steele Appearance: Golden with creamy white foam. Aroma: Orange citrus aromatics followed by peach and other fruits. Taste: Hoppy and very fruity with a tangerine kick on the finish – It's found in both the flavor and the aroma. Palate: Dry, hints of alcohol warmth and a nice bitterness on the back end. Overall: Although still very similar to our classic version of Stone Enjoy By IPA (it is the same recipe, after all), the tangerine adds a more intense citrusy element to the beer. We first made this variation in 2015 as a very small batch and loved it so much that we had to find a date for it in 2016.
Suggested pairings, provided by "Dr." Bill Sysak Appetizers: Coconut shrimp, ceviche, guacamole, garlic edamame, mango salsa Salads: Greek, spinach citrus, waldorf, quinoa black bean, green papaya Entreés: Sashimi, roasted chicken, lime curry tofu stir-fry, grilled onion cakes, salmon, spicy eggplant Cheeses: Montgomery cheddar, Maytag Blue, Bûcheron, Fiscalini Bandage Wrapped Cheddar, Huntsman Desserts: Carrot cake, pineapple upside-down cake, peach cobbler, macaroons Cigars: Arturo Fuente 8-5-8 Candela Lonsdale, Illusione 888 Candela
Contact Info
Company: Stone Brewing
Contact: Nickie Peña
Email: nickie.pena@stonebrewing.com