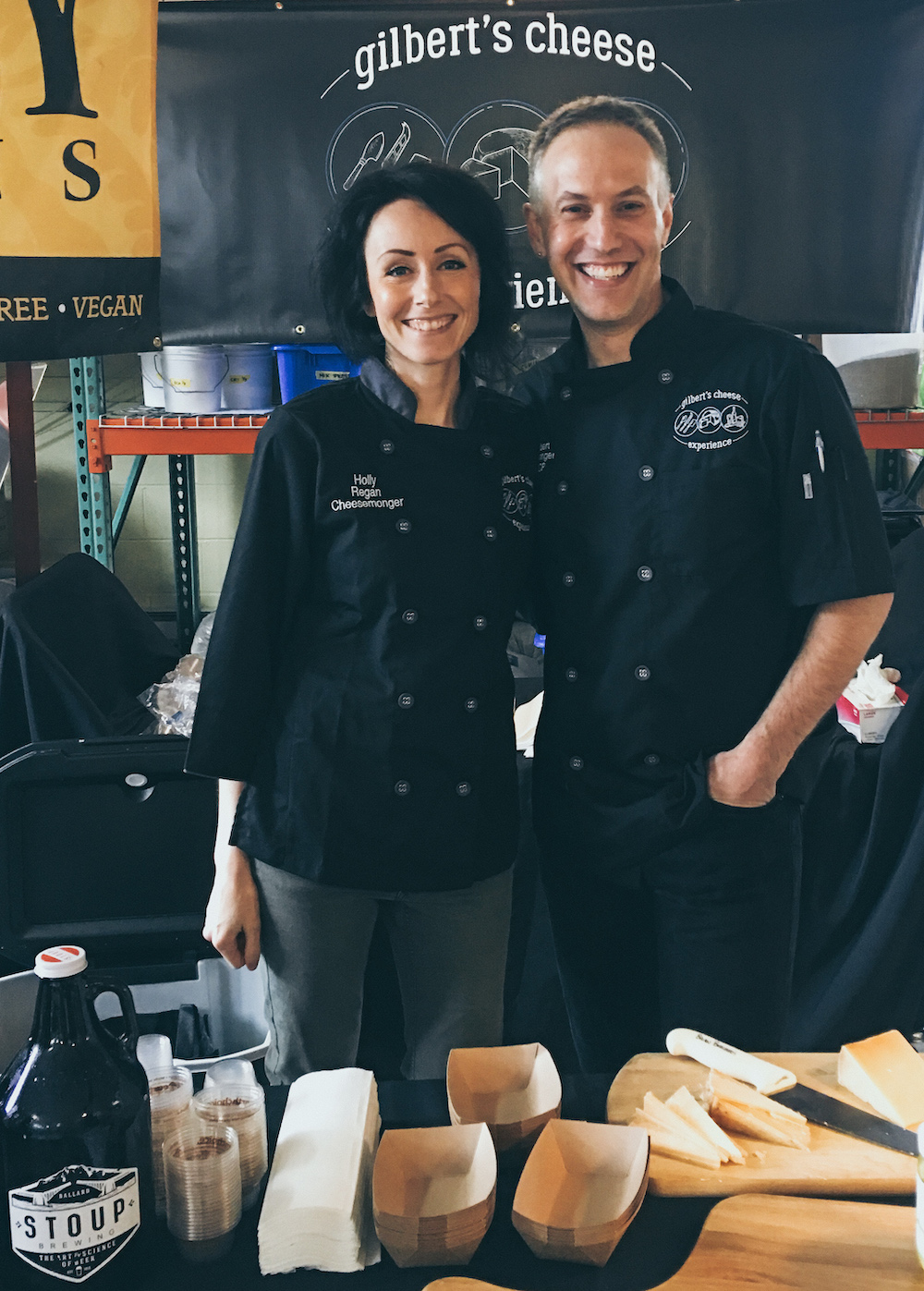 Stoup Brewing Welcomes Gilbert's Cheese Experience for Seattle Beer Week
SEATTLE – A truly unique experience in cheese pairing, tasting and education is making its debut in Seattle's vibrant culinary scene: Gilbert's Cheese Experience will hold its first event on May 14 at Stoup Brewing in Ballard.
Gilbert's Cheese Experience is a touring food-education and tasting program, combining curated cheese selections with another local food or beverage item. Cheese is brought directly to the source of the producers in each pairing for an interactive, full-sensory tasting experience. At each event, attendees will hear from the producers themselves about their craft, see the facilities and learn how their food and drinks are made.
Owner and Head Cheesemonger Brian Gilbert, ACS CCP®, and Creative Lead Holly Regan, a food and beverage writer, say their goals are to empower consumers with knowledge; help them discover new foods and drinks; connect them with their local community; and explore their own tastes to find pairings they love.
"When people know where their food comes from, they're happier, healthier and better caretakers of the Earth," says Gilbert.
The premiere event of Gilbert's Cheese Experience will honor the Seattle beer community by taking place during Seattle Beer Week: It will be held at 6:30 p.m. on May 14 at Stoup Brewing (upstairs). Four cheeses will be paired with four Stoup beers, allowing attendees to mix and match and explore the combinations they like best. Snacks are provided throughout.
"As local makers of independent craft beer, Brian and Holly's desire to connect food lovers with the origins of what they eat and drink — and to do it in a fun and meaningful way — really resonates with us," says Stoup Co-Owner and Marketing and Communications manager Lara Zahaba.
"We are so honored that our friends at Stoup Brewing will be hosting our first event," says Regan. "Besides being friends and colleagues, they have been so supportive of our new venture and our goals."
Ticket prices include the four pairings; a gift bag with a piece of cheese; and a raffle entry to win an eight-pound block of signature Flagship cheddar from Beecher's Handmade Cheese, where Gilbert also serves as Head Cheesemonger.
"One feature I love at Beecher's is their large viewing windows, showing full transparency into how the cheese is made and teaching people where their food comes from," Gilbert says. "That has had a big influence on the way I teach food education, and it's a value we uphold at Gilbert's Cheese Experience. We want people to know every part of the process, as well as the people behind the products they're eating and drinking."
Future events for Gilbert's Cheese Experience will take attendees to wineries, chocolate makers, coffee roasters, kombucha brewers — anywhere specialty, hand-crafted foods and beverages are made. Stoup, a hotspot of the Ballard Brewery District, is a natural partner for this first event, says Regan.
"Stoup's dedication to self-producing and -distributing craft beers that are consistently high-quality, in a broad range of styles and flavors, served in a comfortable and all-inclusive tasting room really aligns with our community values at Gilbert's Cheese Experience," she adds. "They are leaders in the local beer scene, and we're excited to celebrate Seattle Beer Week with an event at their space."
"We have a profound fondness for cheese and education at Stoup," says Zahaba. "Aligning and contrasting beverages with perfectly paired bites can be a real revelation that we are excited for event attendees to discover."
Tickets are on sale now via Facebook and Eventbrite. For more information, visit the Gilbert's Cheese Experience website, Facebook page or Instagram profile.
Contact Info
Company: Gilbert's Cheese Experience
Contact: Holly Regan
Email: holly@gilbertscheeseexperience.com