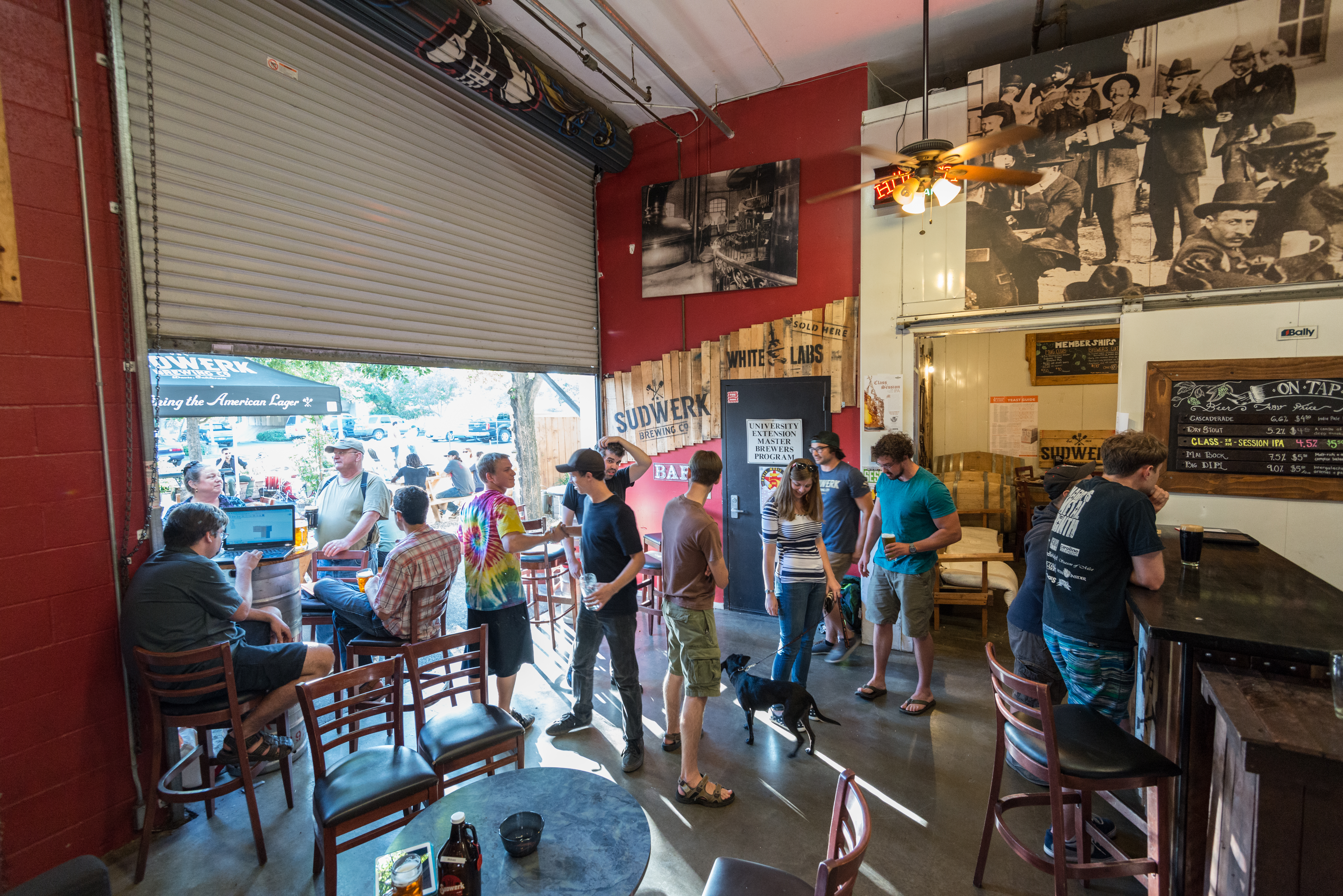 Sudwerk growth spurs community donations
DAVIS, Calif. – Sudwerk Brewing Co. set a company record in 2015 for charitable giving, and its taproom, The Dock Store, served as a popular venue for community events.
Through fundraisers at The Dock, and donations to local organizations, Sudwerk contributed $13,300 to community nonprofits in 2015. That's up from 2014's estimate of $10,000. Sudwerk generally donates 25 percent of tap proceeds when hosting nonprofit, one-day fundraising events at The Dock.
Co-owner Trent Yackzan, whose grandfather was one of the brewery's founders in 1989, said, "One of our core values is to give back to our community. Our goal is to continue doing so on a greater level, to the best of our abilities, in the years to come."
Yackzan, along with fellow Davis native and co-owner Ryan Fry, are thrilled the brewery's recent growth has helped them further their partnerships in the community. "The more we grow, the more we can afford to give back," Fry said.
The Sudwerk taproom is a casual, family-friendly gathering place, where patrons taste innovative local brews, play games with friends, hear live music and unplug. Its manager, Brady Price, calls it Davis' "front porch."
'When our light is on and the door is rolled up, you know you are welcome to come in and enjoy a hand-crafted beverage among neighbors, friends and family," Price said. "Fundraisers are our way of giving back to the people who fill our porch and keep it warm, so they have a rich community to return to outside of the brewery."
Nonprofit community members interested in hosting fundraisers at The Dock may contact Brady Price at brady@sudwerkbrew.com.
2015's charitable recipients included: Davis Bike Club, Bak2Sac train voucher program for bicyclists, U.S. Bike Hall of Fame (Bike & Brew Fest), May is Bike Month, Bait Bike program, Fourth of July Criterium, Davis Bike Polo and The Trixies Bike Polo Team; Beer for Boobs (breast cancer) and Movember.org (prostate cancer); Octobrewfest and Moonlight Run (Change of Pace Foundation) and Barefoot on the Pitch (adult soccer); Davis Music Fest, Phonographic Memory and the Home for the Holidays concert; Davis Police K-9 and Fallen Heroes Memorial Golf Tournament; Davis Phoenix Coalition, Yolo County CASA, Yolo Crisis Nursery, Marguerite Montgomery PTA, Redbud Montessori, Future Development Youth Center, Citizens Who Care and Kiva loans; Yolo SPCA, International Veterinary Outreach, UC Davis Veterinary School freshmen, UCD International Agricultural Development Graduate Group, UCD Chemistry Club, Cal Aggie Alumni Association and the UC Davis Food Science Brewing Club; the Provost family and the Matt Gonzales family.
Sudwerk Brewing Co. worked with many more clubs, nonprofit organizations, and community partners, offering discounted prices, volunteered labor, tours and merchandise donations at pre-approved events. They include Soroptimist International of Davis (Picnic in the Park), Third Space Art Collective, Greenbelt Brewers Association, American Home brewers Association, Davis Arts Center Holiday Sale, Davis Music Collective, KDRT 95.7, Music Only Makes Sense, Lady Demons Softball Club, Pence Gallery, Davis Odd Fellows Hall, John Natsoulas Gallery, Carlton Plaza, White Labs, Sacramento Beer Train, Taste of Davis, Coldwell Banker Arnold Real Estate, Celebrate Davis!, Davis Pride, Davis Police Officers and California CHP, Yolo Wildlife Basin Foundation, Theta Chi fraternity, UC Davis Ski or Snowboard Club, Change of Pace Foundation, National Veterinary Scholars Symposium, UC Davis Athletics, UCD Master Brewers Program and the parent group for the Davis High School Advanced Treble Choir.
Sudwerk also worked in collaboration with local businesses whenever possible. Pepper Peddler Coffee, Rainwater Ranch citrus and Moonshine Trading Co. honey, were featured in Sudwerk beers; Putah Creek Hops flavored several beers; Turkovich Winery barrels aged some sour beers; Jake's Desserts made ice cream with Sudwerk beer; The Davis Food Co-op and Sudwerk made their annual collaborative beer; The brewery was the setting for FIT House KegFIT workouts; Branded apparel came from Ink Monkey; and Blue Dog Beverages are featured in The Dock Store. And local ranchers have some happy cows, dining on the spent grains leftover from brewing.
Building on 25 years of family legacy and brewing tradition, Sudwerk Brewing Co. specializes in artisanal brews, specifically West Coast craft lagers. Its taproom, The Dock Store, at 2001 Second St., Davis, Calif., is open from 5 to 8 p.m. Tuesdays, 4 to 8 p.m. Thursdays and Fridays, and 2 to 8 p.m. on weekends. It offers a rotating menu of experimental and innovative beers, "honest pints" and growler fills, fresh White Labs brewers' yeast, and good conversation. Learn more at http://sudwerkbrew.com.
Contact Info
Company: Sudwerk Brewing Co.
Contact: Trenton Yackzan
Email: trent@sudwerkbrew.com