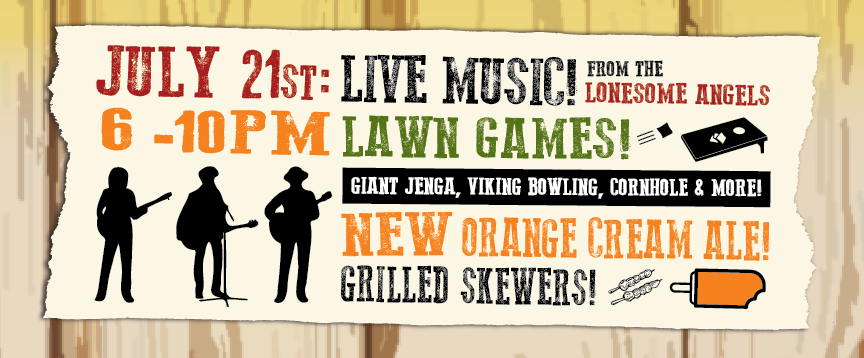 Summer Brew-HaHa at CB Craft Brewers!
SUMMER BREW-HAHA
FRIDAY JULY 21st, 6:00-10:00PM
at CB Craft Brewers
Enjoy summer while it's here with live music, games, food & BEER!
6:00-9:30pm – LIVE MUSIC from the Lonesome Angels!
– Have some fun in the sun with our GIANT Jenga game, cornhole, viking bowling, and more!
– Treat youself to a delicious meal in our Pint & Goblet Tavern, or grab a skewer or two outdoors!
– Try the new RG Orange Cream Ale! Available for a limited time!
About CB Craft Brewing
Twenty years ago, craft beer was not terminology known to most Western New Yorkers. In 1991 Mike Alcorn moved to Rochester from Southern California to help Kodak pursue a new digital imaging focus. Interestingly enough, Mike was here in Rochester to start a totally different revolution, one focused on beer rather than pixels. In 1997 Mike left Kodak and forever changed the landscape of craft beer in Western New York. Disappointed by the lack of quality craft beer in the area, Mike decided to open a brewery in Honeoye Falls, NY and brew private label beers for area bars and restaurants. He named the brewery Custom BrewCrafters to reflect the company's core business model of brewing private label beer. Examples include Jeremiah's Frog Grog and Hogan's Park Ave Ale. A small tasting room was built to give customers the opportunity to sample the private label brews and take home filled growlers. Within a few years, the overwhelming success of the business allowed Mike to brew a few craft beers under their own brand "CB" and sell them to select retail markets and draft accounts in Rochester, NY.
Contact Info
Company: CB Craft Brewers
Contact: Chloe Clark
Email: cclark@cbcraftbrewers.com