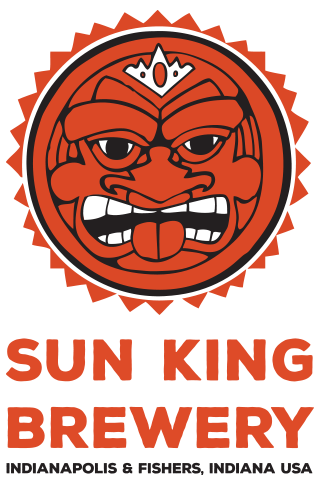 Sun King's Fresh•Local•Beer to be Available in Southern Indiana
Sun King Brewery, Indiana's second-largest beer brewer, is thrilled to begin expanding the distribution of its Fresh•Local•Beer through Monarch Beverage Company, Indiana's largest distributor of beer and wine, to 39 counties across southern Indiana, including the cities of Terre Haute, Evansville, Clarksville, and New Albany starting this month.
For the first time ever, beer lovers can now find 16-ounce cans of Sun King and Fresh•Local•Beer on tap at more than 350 bars, restaurants, and liquor stores throughout southwest Indiana in the following counties, just in time for the holidays: Clay, Crawford, Daviess, Dubois, Gibson, Greene, Harrison, Knox, Martin, Orange, Owen, Parke, Perry, Pike, Posey, Spencer, Sullivan, Vanderburg, Vermillion, Vigo, Warrick and Washington.
"We set out to become Indianapolis' craft brewery and we've exceeded our
expectations," said Clay Robinson, co-owner of Sun King Brewery. "Over the past six years, the demand for Sun King's Fresh•Local•Beer has grown exponentially – way beyond Indianapolis. We are excited to work with Monarch/World Class to help get our beer into the hands of the great people in southern Indiana and we're looking forward to statewide distribution in the future."
This year, the passage of Senate Bill 297, which went into effect on July 1, increased the maximum amount of beer that a small brewery, like Sun King, can produce per year for sale within Indiana from 30,000 to 90,000 barrels. In addition to the new distribution in Indiana's southwest counties, Sun King will also return distribution, via Monarch, to 11 southeastern Indiana counties, which include Bartholomew, Clark, Decatur, Floyd, Jackson, Jefferson, Jennings, Ohio, Scott, Shelby and Switzerland.
"We are extremely excited to have been selected by Sun King as a distributor partner," says John Xenos, General Manager at Monarch Beverage. "Sun King is not only an exceptional Indiana brewery with great beer, it's also a Hoosier company that, like Monarch Beverage, believes in giving back to the local communities that it serves. We look forward to working with Sun King and expanding availability so more Indiana residents can enjoy their locally-crafted beer."
About Sun King Brewery
Sun King Brewing Company is the brainchild of Dave Colt and Clay Robinson. With the help of family and friends – Omar Robinson, Andy Fagg and Steve Koers – the first keg of Sun King beer rolled out the door for delivery in July 2009. Now available on tap and in cans at hundreds of locations around central and southwest Indiana, Sun King has grown into the second-largest beer brewer in the state of Indiana. The company's commitment to handcrafted seasonal and specialty beers has been rewarded with multiple medals at the Indiana Brewers Cup, Great American Beer Festival and World Beer Cup competitions. Visit www.sunkingbrewing.com for more information. Sun King Brewery is also on Facebook and Google+.