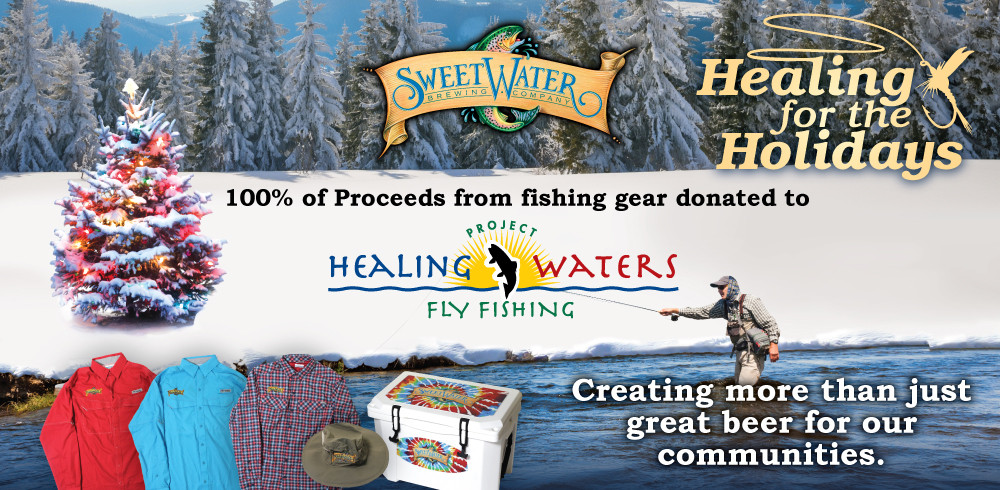 SweetWater Brewing Co.'s Black Friday and Cyber Monday Deals, Plus "Healing for the Holidays"
Black Friday: On November 27, 2015 from 3:00-7:30 pm, SweetWater Brewery will be open to give tours and spread the holiday cheer with deals this Black Friday.   195 Ottley Dr. Atlanta, GA  30324
Door buster deal:  the first 50 customers in line at the brewery will receive a SweetWater Nalgene water bottle stuffed with a t-shirt.

10 of those bottles will also be loaded with a $5 gift card, and one with a $25 gift card, to use in the SweetWater Schwag Shop.

Reusable blue SweetWater totes will be available for purchase for $4.20 – anything from the schwag shop that fits in the bag will be eligible for 20% off that day.
Men's and Women's clearance items will have an additional 15% off.
Cyber Monday: Starting at 12:01 AM on November 30, there will be cascading discounts every 6 hours for the t-shirt and glassware collections at www.sweetwaterbrew.com/schwag.   Discounts are as follows:
12:01-6:00 am – 50% off 6:01-12:00 pm – 40% off 12:01-6:00 pm – 30% off 6:01 pm-12 am – 20% off
12:01 am-6:00am – 10% off
Healing for the Holidays:  For holiday gifts with a heady heart, give SweetWater schwag and fishing gear to benefit Project Healing Waters, a non-profit that aids in the physical and emotional rehabilitation of disabled active and veteran United States military by taking them out on the water for fly fishing and other cathartic activities.  The brewery's "Healing for the Holidays" program, which runs November 1, 2015, through the holiday season, will give back to the organization 100 % of proceeds from select SweetWater schwag like fishing shirts, fly boxes, Grizzly coolers, and Hoo-rag bandanas.    View and purchase items at http://store.sweetwaterbrew.com
MORE ON PROJECT HEALING WATERS: Project Healing Waters is dedicated to the physical and emotional rehabilitation of disabled active military service personnel and disabled veterans through fly fishing and associated activities, including education and outings.   Project Healing Waters Fly Fishing is a non-profit organization, which receives no government funding and is depending on tax-deductible, charitable donations and the help of numerous volunteers to meet the educational, equipment, transportation, and related needs of its participants.  Projected Healing Waters Fly Fishing, Inc. strives to effectively serve the deserving past and present members of our armed forces who have made great sacrifices in the service of our nation. Learn more about the great work that is being done at ProjectHealingWaters.org
ABOUT SWEETWATER BREWING CO.: SweetWater Brewing Company, the South's largest craft brewery, lives by the motto "Don't Float the Mainstream!" The award-winning lineup of year-round beers includes SweetWater 420, IPA, Take Two Pils, Hop Hash, Blue, and Georgia Brown. SweetWater also features a catch and release series of beers available on a limited basis throughout the year including an experimental, one-time-only Dank Tank series and barrel-aged wild ales in the Cork & Cage series. SweetWater Brewery – located at 195 Ottley Drive in Atlanta – is open for tours every Wednesday, Thursday and Friday from 5:30 – 7:30 p.m. as well as Saturdays and Sundays from 2:30 – 4:30 p.m. For more information about SweetWater Brewing Company, please visit www.sweetwaterbrew.com. Follow SweetWater Brewing Company on Twitter/ Instagram @sweetwaterbrew, or become a fan on Facebook at facebook.com/sweetwaterbrew.
Contact Info
Company: SweetWater Brewing Co.