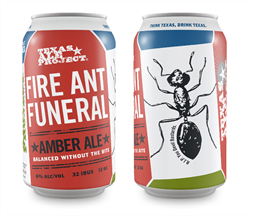 Texas Ale Project Excited to Announce Cans Are Coming!
Dallas, Texas – Texas Ale Project is three months ahead of schedule in its efforts to start canning two of the Dallas brewery's best-selling beers. "We're are constantly being asked when our craft beers will be available for take-home purchase," says Kat Thompson, President and CEO of Texas Ale Project, "so we are incredibly excited to now offer our ales in cans." Canning operations are expected to start in November 2015, one year from when Texas Ale Project first starting selling its beer. The local brewery will launch Fire Ant Funeral Amber Ale and 50 FT Jackrabbit IPA as the first beers available in cans. Both beers will be available for purchase in Dallas, Tarrant, Collin, and Denton counties through local retailers.
With color block styling and subtle humor, the cans are designed to match the ales' assertive, yet smooth nature. Texas Ale Project wishes to thank both Saputo Design and Speck Communications for their dedication and partnership on designing these can labels. "As a growing family business, we appreciate all of our partnerships that enabled us to become as successful as we have today," says Kat.
"Providing our fans with what they want is what we're here to do," says Brent Thompson, Co-Founder and husband to Kat. Brent continues "this has been an incredible year of growth for us, and launching our ales in cans is just the obvious next step." Stay tuned for announcements on a can release party later this year.
Packaging will be in partnership with Armadillo Mobile Canning initially, and T.A.P. is also developing plans to purchase and install a proprietary canning line in the brewery's state-of-the-art production facility late next year.
About Texas Ale Project At Texas Ale Project, we brew fine American style craft ales using proven, traditional brewing methodologies and a little innovation. Texas Ale Project's brewery and T.A.P. Room is located at 1001 N Riverfront Blvd. in Dallas, TX. The public can visit the brewery during T.A.P. Room hours on Thursdays and Fridays from 5 pm – 9 pm and Saturdays from 1 – 9 pm. Please check out our website or Facebook page for special public events and closures due to private events. www.texasaleproject.com