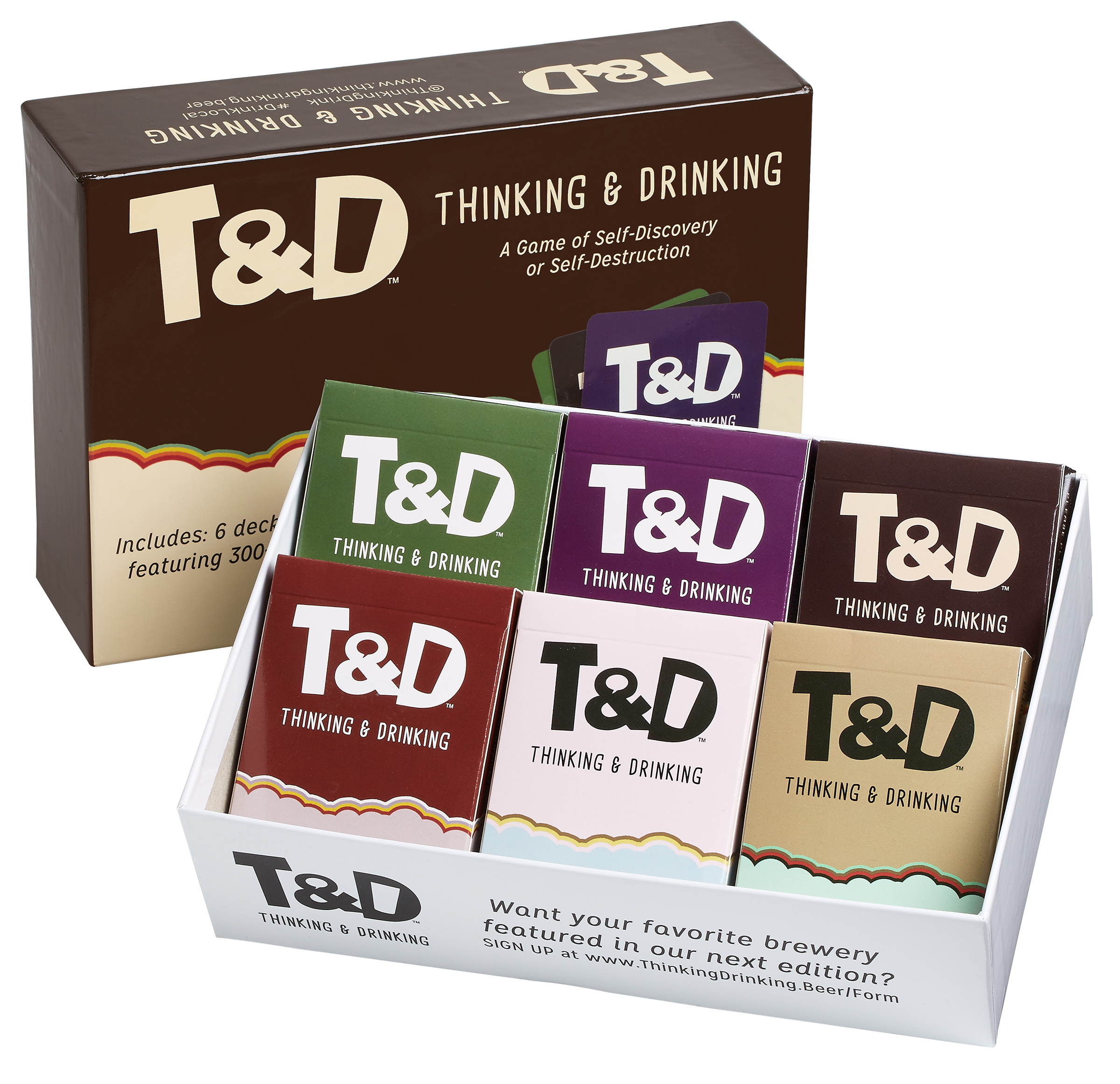 Thinking and Drinking Card Game Releases March 1 on Amazon.com
Features More Than 300 Craft Breweries, Keeps Conversation Flowing
PHILADELPHIA – Thinking & Drinking, the conversation-starting card game featuring more than 300 craft breweries from across the nation, will be released on March 1 on Amazon.com.
"Thinking & Drinking is a celebration of the good conversations had over really good beer," said Jonathan Cooper, who created Thinking & Drinking with his wife Nikki Cooper. "We spend enough time staring at our phones and screens. Thinking & Drinking is about putting down your phone, revealing a little bit about yourself, and actually learning a little bit about the other people who are playing."
Thinking & Drinking focuses on sparking conversation, and the gameplay is easy: Simply draw a card from the deck, read it, and each participant provides a response.
Thinking & Drinking questions include:
If giving up cheese made you immortal, would you do it?
What super power would you most want to have?
If you could meet anyone (living or dead), who would it be?
Which movie president would you actually vote for?
"We call it 'A Game of Self-Discovery or Self-Destruction' because you'll learn something about yourself or maybe share a little too much each time you play," said Cooper.
Each Thinking & Drinking deck is complete with 54 cards, and the full game features six decks in all – that's more than 300 cards with more than 300 questions. In addition, each card includes a profile of a U.S.-based craft brewery and their flagship beer.
"Craft beer – just like good stories – is so much better when it's shared with friends," said Cooper. "We decided to profile America's craft brewers because we love the idea of helping create conversation and stories in bars, breweries and tasting rooms across the country."
The complete Thinking & Drinking profiles breweries from all 50 states and Washington, D.C. Thinking & Drinking is also available for sale on www.ThinkingDrinking.Beer.
For a full list of featured breweries, visit www.ThinkingDrinking.Beer/Supporters.
About Thinking & Drinking™
Thinking & Drinking™ – A Game Of Self-Discovery Or Self-Destruction – is a card game of 300 questions that are crafted to foster conversation. Each time a question is asked, each player must answer. Those answers may reveal something new about other players … and maybe even yourself. Thinking & Drinking is designed for players 21+ and should always be played responsibly. (www.ThinkingDrinking.Beer) Product Images via DropBox: https://goo.gl/TSu0DE
Contact Info
Company: Thinking & Drinking, LLC
Contact: Jonathan Cooper
Email: jon@thinkingdrinking.beer