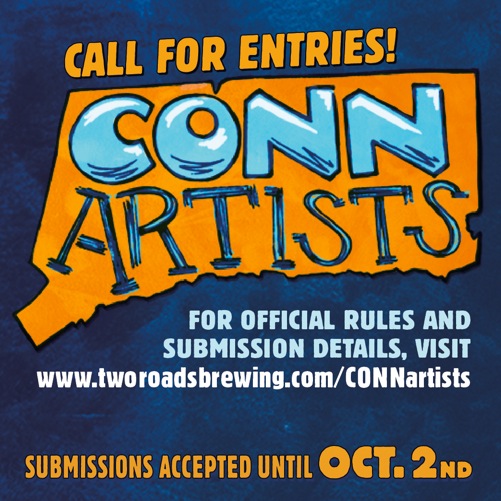 Two Roads Calling Artists for 2nd Annual CONNartist Contest
Two Roads is proud to be from Connecticut, a state that has contributed vastly to America and the world. In 1939, Igor Sikorsky flew the first helicopter just down the street from our brewery. New Haven defined the way we eat food with the inventions of the hamburger and the lollipop. Bridgeport made the first submarine for the Navy and Danbury hats and Connecticut River Valley clocks were the height of sophistication. The list could go on for pages about what Connecticut has contributed to our society.
To celebrate the Nutmeg State, we are proud to announce the return of our "CONNartist" contest. Artists 21+ can create art in any form (watercolors to sculpture, etc.) celebrating Connecticut. Whether it's Connecticut's beautiful geography, its people, the state's creative ingenuity or anything else, there should be plenty to inspire artistic creativity!  The contest is limited to residents of MA, CT, RI, NJ, PA, VT and NY.
Rules and submission guidelines are on the Two Roads website: http://tworoadsbrewing.com/connartists-2015. Artists will have until October 2, 2015 to submit their art digitally (no physical art will be accepted). The winner will have their art displayed on a 30' high fermenter inside the brewery and win $1000.  Also, five first place finalists will receive $250. The unveiling will take place at the brewery in November.
Contact Info
Company: Two Roads Brewing Company
Contact: Emily Sauter
Email: emily@tworoadsbrewing.com