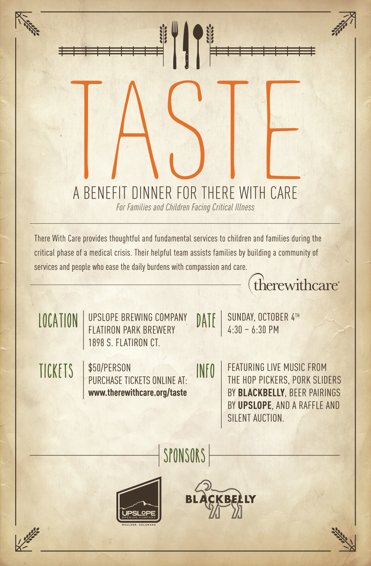 Upslope Presents Taste: A Benefit for There With Care
Join us for Taste – A Benefit for There With Care
There With Care provides thoughtful and fundamental services to families and children during the critical phase of a medical crisis. Their helpful team assists families by building a community of services and people who ease the daily burdens with compassion and care.
LOCATION // Upslope – Flatiron Park location (1898. S. Flatiron Ct.)
DATE // Sunday, February 28th (4:30 pm – 6:30 pm)
TICKETS // $50/person >> Get 'em here: https://therewithcare.ejoinme.org/tickets
EVENT INFO // Fundraisers should be FUN! So we're teaming up with our friends at Blackbelly to host a benefit for one of our favorite local non-profit organizations. We'll be featuring live music from The Hop Pickers, Pork sliders by Blackbelly, Beer pairings from yours truly, & a raffle and silent auction.
Hope to see you there!
Contact Info
Company: Upslope Brewing Company
Contact: Tiffany Lutke
Email: tiffany@upslopebrewing.com