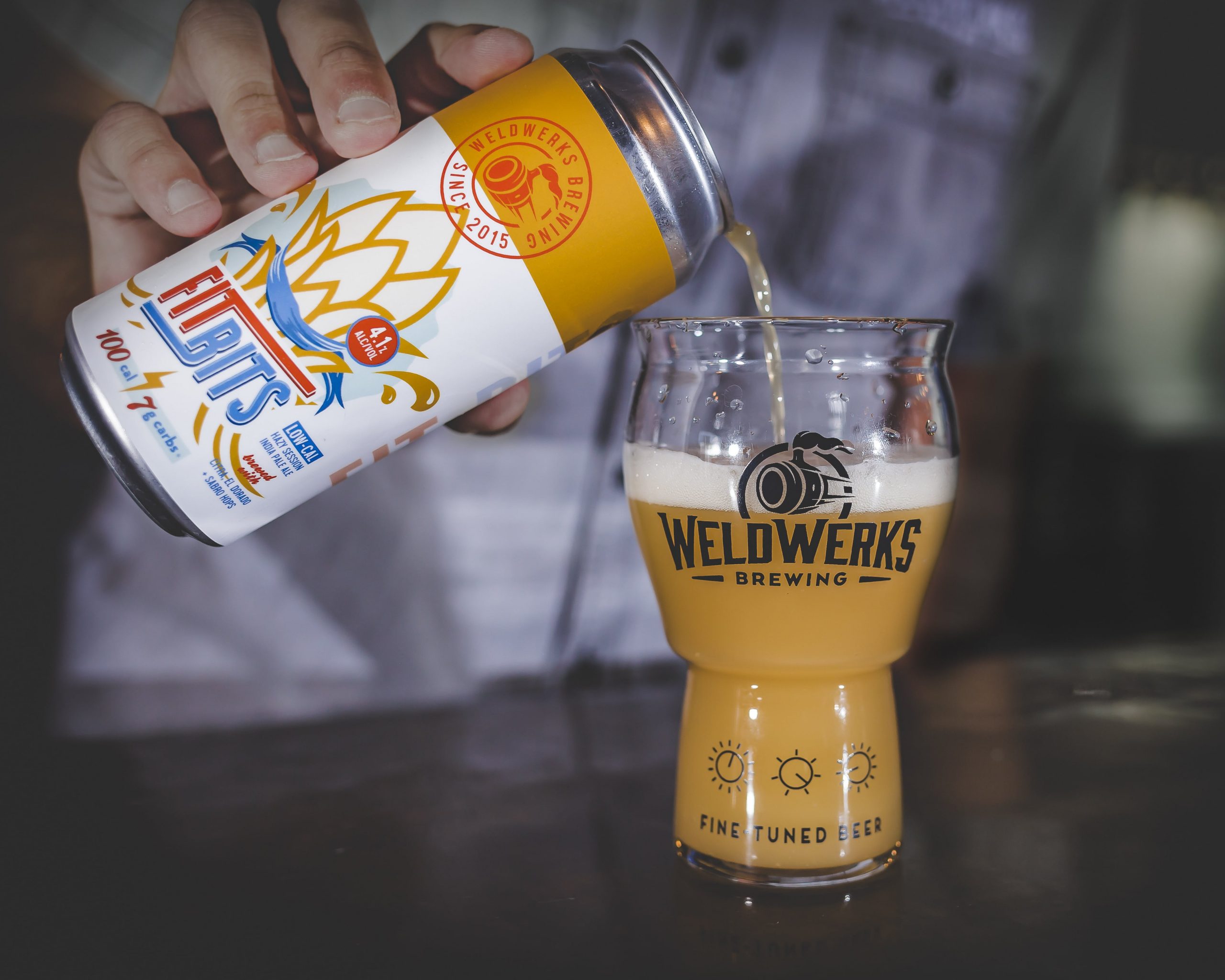 WeldWerks' Fit Bits To Be Available in Nine Whole Foods Market Locations in Boulder and Denver Metro Area
GREELEY, CO— Come springtime Fit Bits from WeldWerks Brewing Co. will be available at nine Colorado Whole Foods Market locations. For this self-distributing brewery, the connection to Whole Foods Market stems back to the Boulder location; the natural and organic grocery store were early adopters of WeldWerks' original 12-ounce cans of Hefeweizen and Puesta del Sol. Starting the week of March 9, Fit Bits, one of the first low calorie and low carb Hazy IPAs in the market when originally launched last fall, will be available for health-conscious consumers looking for a lighter beer that does not compromise on flavor. 
"With Colorado being such an active and outdoorsy state, we've seen a big increase in demand for a low-carb, reduced calorie beer that still retains the soul of a great WeldWerks hazy IPA," says Jake Goodman, WeldWerks Director of Marketing. 
Coming in at 130 calories and 5 grams of carbohydrates per 16-ounce can, this low calorie and low carb Hazy Session IPA is brewed with Citra, El Dorado, and Sabro hops. One of the most beautifully and uniformly hazy IPAs that the brewery has ever made, Fit Bits features notes of papaya, over-ripe mango, and peach skins from the huge whirlpool and dry hop addition. With an approachable 4.2% ABV, Fit Bits has a surprisingly smooth and creamy mouthfeel that also finishes dry and crisp.
Fit Bits will be available at the following Whole Foods Market locations in Boulder and the Denver Metro Area including: Belmar, Boulder, Cherry Creek, Colorado Blvd., Governor's Ranch, Superior, Tamarac, Union Station and Washington Park.
"We worked hard to create a brew that isn't just a good version of a healthier IPA, but rather a great IPA that stands on its own and just happens to be low carb and low calorie," says Goodman.
For more information about WeldWerks Brewing Co. or Fit Bits, contact Chea Franz at chea@indiecreativeco.com.
ABOUT WELDWERKS BREWING CO. Established in 2015, WeldWerks Brewing Co. is an award-winning craft brewery located in Greeley, Colorado recognized for brewing an array of beer styles including Juicy Bits, one of the most highly regarded hazy IPAs in the country. WeldWerks brings innovative and quality craft beer to the community it serves, garnering numerous medals and acclaim in their first three years of operation including multiple medals at both the Great American Beer Festival and World Beer Cup, as well as being named USA Today's Best New Brewery in a 2016 10 Best Reader's Poll. WeldWerks is passionately committed to giving back to the community it serves, establishing The WeldWerks Community Foundation, a 501c3 nonprofit dedicated to supporting local nonprofits through events like The WeldWerks Invitational. At WeldWerks, "Fine Tuned Beer" is a way of life, turning up all the dials to ensure outstanding excellence in craft beer, service and beyond. For more information about WeldWerks Brewing Co, visit www.weldwerksbrewing.com.
Contact Info
Company: Indie Creative Co.
Contact: Chea Franz
Email: chea@indiecreativeco.com