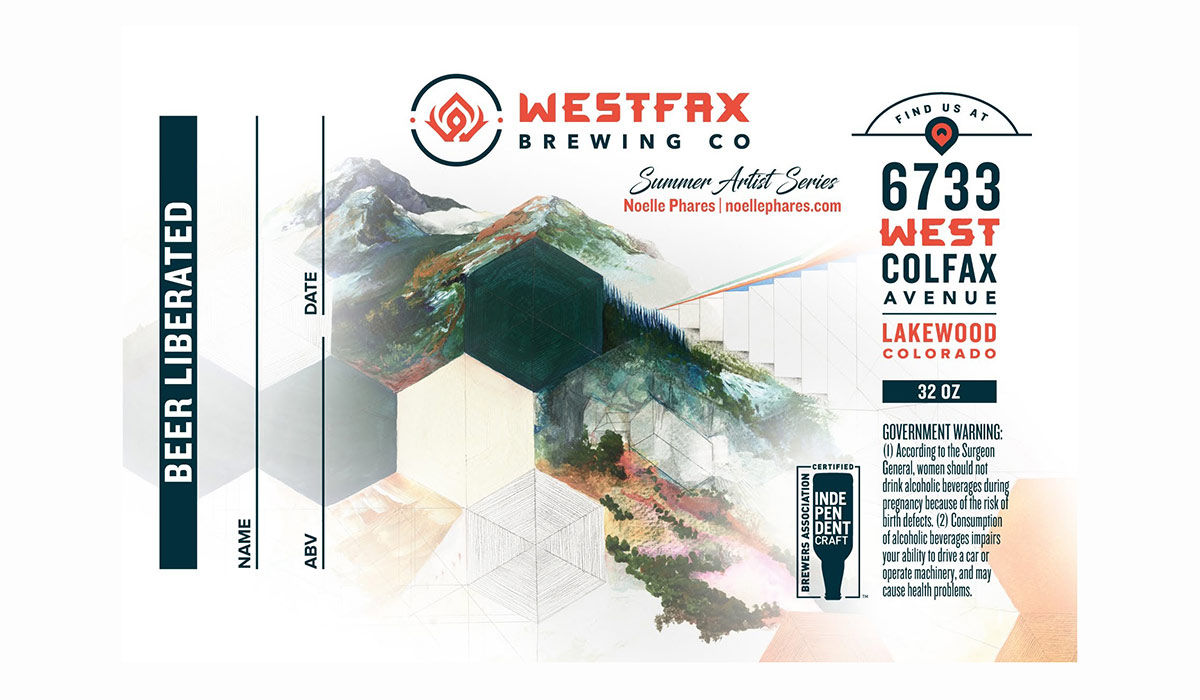 Westfax Brewing Co. Launches New Crowlers Inspired by Local Artist
Lakewood, CO – The newly acclaimed 40 West Arts District in West Denver/Lakewood will be launching a new Art Line on June 1st with its own 1st Friday on along the W. Colfax corridor. WestFax Brewing, located in the heart of the art district, will do its part to help support this 1st Friday Art Event with local Colorado artists by launching a new art gallery in their taproom featuring Colorado artist, Noelle Phares. This exhibit is free and will feature several original paintings that are a modern homage to the western slopes. WestFax will also be launching a new line of crowler (32 oz cans) designs featuring Phares original artwork. There will be two new can designs that highlight two unique works from the local artist as the main backdrop in the design. The hope is that this partnership with both Phares and 40 West Arts will help grow awareness to the local community about the growth in artisans along W. Colfax Ave.
Artist Noelle Phares commented on this upcoming event and partnership; "I'm perpetually intrigued by the daunting beauty of the nearby Rocky Mountains – one of my favorite muses. My goal as an artist is always to remind people how precious the natural world is, with the stark geometric elements in much of my work symbolizing the ever-growing presence of humanity pressing in on previously open space. As Denver undergoes quick growth on the outskirts of some of the country's most pristine wilderness areas, it's the perfect place to ponder these topics. I'm excited to show a collection of original paintings and limited edition prints at Westfax Brewing Co. as they join the community of businesses that support local artists."
This art will be on display in the taproom throughout the Summer months starting on June 1st. The limited artist series 32oz cans will be released this date as well and available in the taproom for purchase for beer to-go. These crowler cans are capable of being filled with any of WestFax local beer that's brewed on sight at 6733 w. Colfax Ave.
Contact Info
Company: WestFax Brewing Company
Contact: Brian Haitz
Email: brian@westfaxbrewingcompany.com