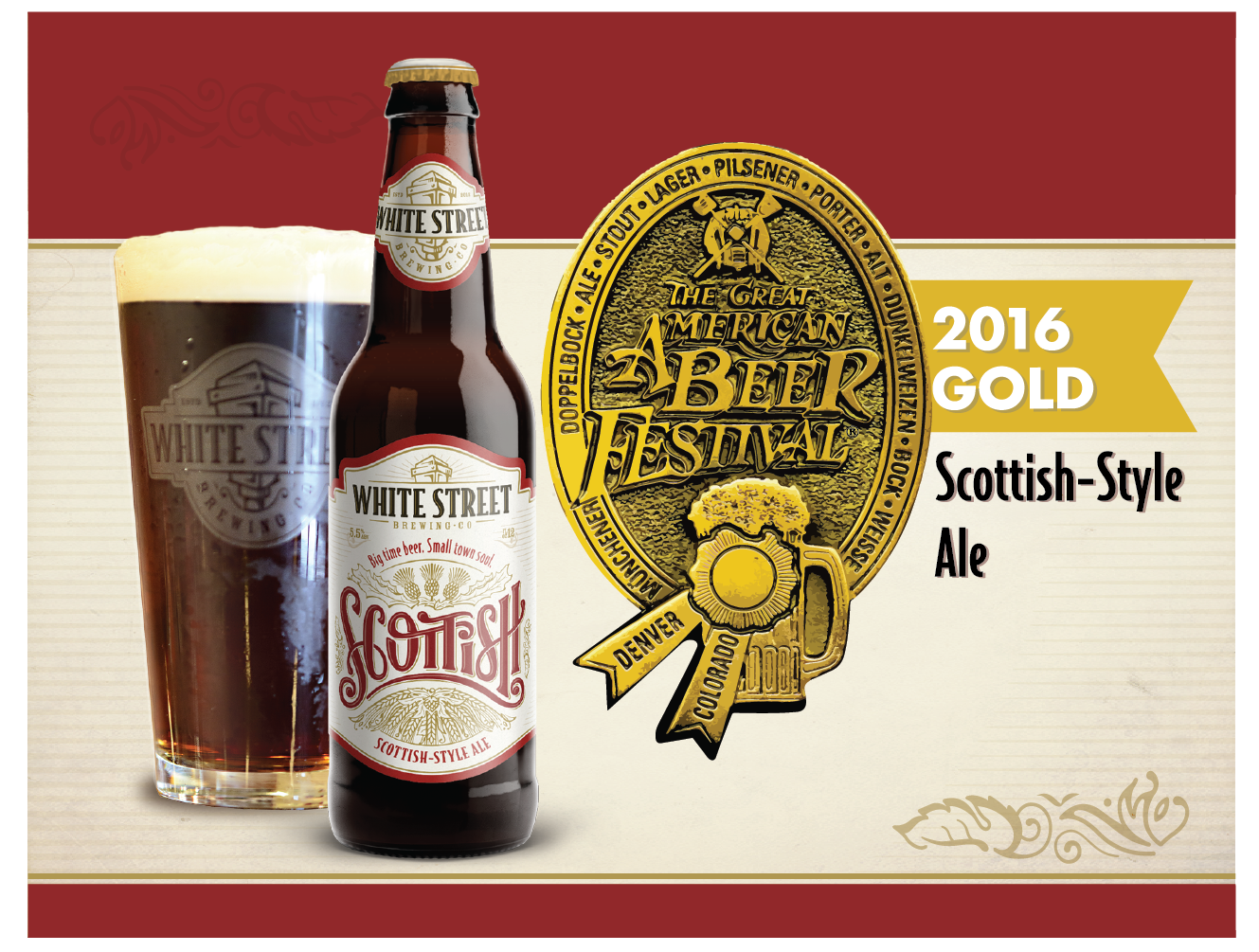 White Street Brewing Company Brings Home Gold
Wake Forest, NC-October 12, 2016—White Street Brewing Co. earned the Gold Medal this past weekend at the Great American Beer Festival for their Scottish Ale. White Street's excitement not only stems from the award but what it means going forward with an already successful beer.
In its 30th year, the 2016 Great American Beer Festival (GABF) awarded 286 medals in 96 categories to some of the best commercial breweries in the United States. Presented by the Brewers Association, GABF is the largest commercial beer competition in the world and a symbol of brewing excellence.
"Our goal has never been to worry about winning awards, just to create that beers that meet our increasingly high standards," says owner, Dino Radosta. "We love the Scottish, it's been with us since day one because we love the flavor and think it exemplifies a great classic style that doesn't rely on trends. It's a beer that truly embodies the vision of our brewery as a whole and that's why this gold means so much to us."
White Street is no stranger to the winner's circle. In 2014 their Kölsch captured the Gold Award for Kölsch-Style Ale from the World Beer Cup, which put the brewery on the map for many. This Gold Medal for the Scottish Ale now means that half of the Main Street Series of flagships for White Street have received the highest honors from two of the world's most distinguished beer competitions.
"Having a second of our flagship styles win such a prestigious gold medal really reinforces the White Street brand as a whole," Dino continues. "It's always special when your everyday work ethic is recognized in such a way."
###
White Street Brewing Company, North Carolina's hometown brewery, is a locally-owned, independent manufacturer of award-winning craft beer. Established in 2012, White Street's small town ethic and their attention to detail are reviving the time when neighborly craftsman took the time to do things the right way. Their flagship Main Street Series includes Kölsch, recipient of the 2014 World Beer Cup Gold Award, Scottish Ale, winner of the 2016 GABF Gold Medal, Hoptimist IPA, and Emmalynn Belgian Blonde. You can enjoy their high quality, consistent and flavorful brews on draught or in bottles across the state; or, visit their taproom (open 7 days a week) in downtown Wake Forest.
Contact Info
Company: White Street Brewing Company
Contact: Will Haddock
Email: will@whitestreetbrewing.com