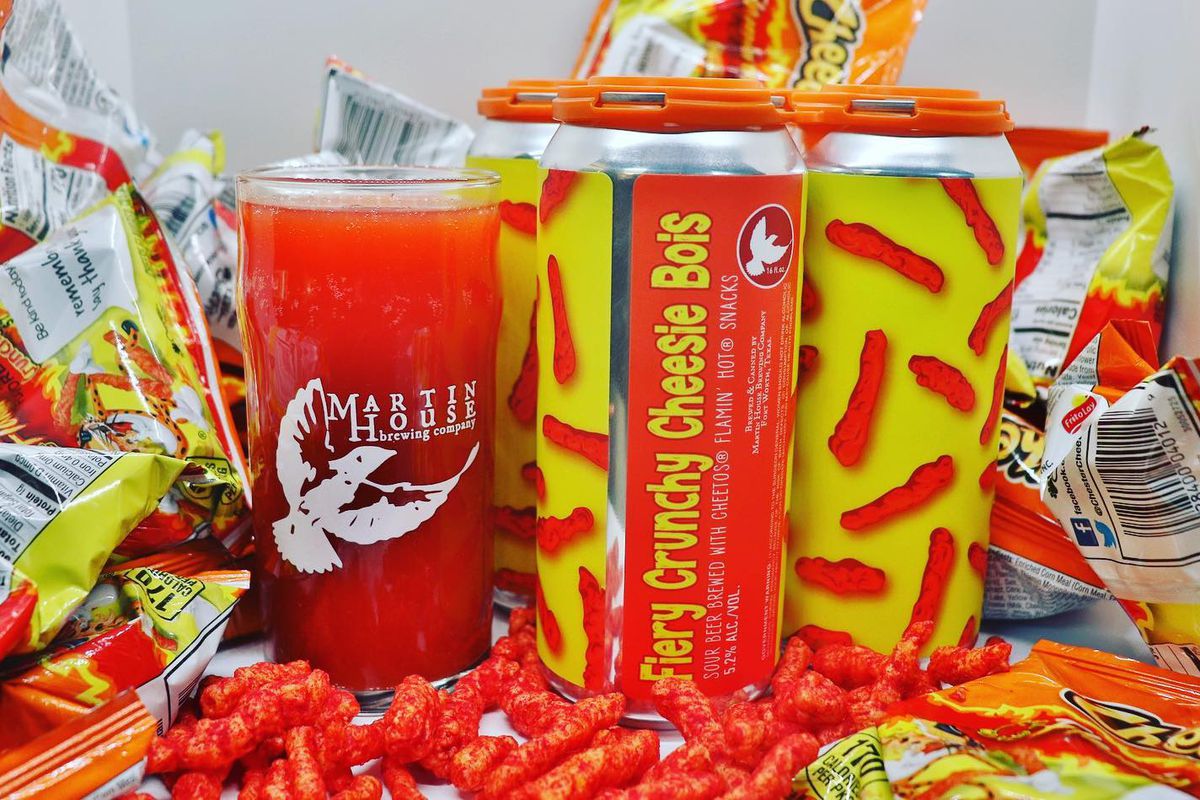 You've Had Beer Cheese, Now Try Cheese Beer
An ice-cold beer with your Cheetos? Awesome! Cheetos in your ice-cold beer? That's just weird.
Fortunately, the crew at Martin House doesn't shy away from a little weird — they've released beers made with squid ink, a pizza-flavored brew, and a Sour Ale that tastes just like pickles.
Their latest foray into baffling beer weirdness is — you guessed it — a brew made with actual Cheetos! And to really amp things up, they used the spicy 'Flamin' Hot' kind!
The lava-hued beer is called Fiery Crunchy Cheesie Bois, and it tastes, oddly enough, exactly like Flamin' Hot Cheetos.
On release day, fans lined up out the door for this taproom exclusive!
The first batch is already sold out, but they say they MIGHT make it again someday. Maybe that next release will show up on Tavour so adventurous craft beer fans outside of the Lone Star State can get a shot at it. 
The app-based retailer has carried plenty of other unusual Martin House offerings in the past, including their Best Maid Spicy Pickle Beer (which tastes EXACTLY like a real spicy pickle) and their Peanut Butter Pretzel Stout, made with actual peanut butter and pretzels.
In fact, Tavour is the only place to consistently find Martin House beers outside of Texas! They also carry a host of other oddities, like Midtown Dew from New York's Evil Twin which is bright green because it's made with actual Mountain Dew syrup! And AON Pecan Mud Cake Barrel Aged Stout from Sweden's Omnipollo. It really does taste like pie, and that's just the tip of the Dessert Stout iceberg!
What's next for Martin House? They have a Bananas Foster beer in the works, and something called Puppy Chow that they promise will not contain dog food. And when they released Fiery Crunchy Cheesie Bois, one fan asked if they've ever made a Mac & Cheese Beer. Another suggested a beer that tastes like 'well seasoned taco meat.' 
Will they really make those strange brews? When we prodded them for an answer, they said "there's always some truth behind every rumor." So who knows?
Whether you're heading to the brewery's Texas taproom, or keeping an eye out on Tavour, those beer drinkers with a taste for adventurous brews have a friend in Martin House. A weird friend, who makes Cheeto-flavored beer!
Contact Info
Company: Tavour
Contact: Kathryn Preissinger
Email: kathryn@tavour.com