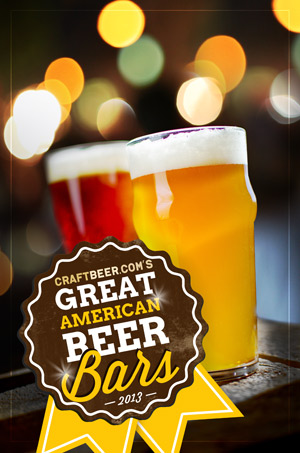 CraftBeer.com's Great American Beer Bars 2013
This year we've switched up the Great American Beer Bars competition a bit! We're currently accepting votes to name the best beer bar in every state! Vote now!
With more than 2,500 operating breweries in the U.S., your options for places to enjoy craft beer continue to grow. As more and more beer-focused establishments stake claim on your palate, which set themselves apart from the rest?
Last year, CraftBeer.com asked for help to recognize the United States' great craft beer bars—and boy did you! The response was insane, with more than 3,300 nominations and close to 30,000 votes.
In 2012, we recognized three national winners and three regional winners from five areas of the country. See the 2012 results in, "CraftBeer.com Readers Select the Country's Favorite Beer Bars."
We'd like to ask you again, what is your favorite craft beer establishment (bar, tavern, restaurant, brewpub, etc.)? Nominate your bar and tell us why it's so special by filling out the short survey below. Nominations will close at noon MDT on Monday, Aug. 19.