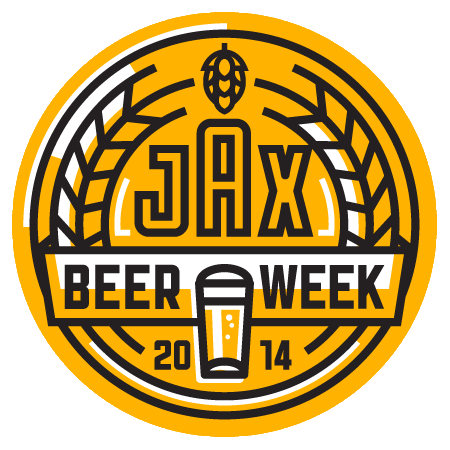 3rd Annual JAX Beer Week May 25-May 31
The third annual Jax Beer Week takes place May 25-31, 2014. It is an annual gathering of local breweries and better beer businesses to celebrate the growth of craft beer in Jacksonville.
A number of events are planned throughout the week that focus on beer brewed right here in Jacksonville and by other craft brewers in Florida.
For more information or press inquiries please email Cari at jaxbeerweek@gmail.com.
Follow us on Facebook at Jax Beer Week for up-to-the-minute updates on events and other happenings.
Participants include:
1904 7 Bridges Aardwolf Beer:30 Black Sheep Restaurant Bold City Brewery Brewers Pizza The Brick Broudy's Broudy's Ponte Vedra Burrito Gallery Burro Bar CASK Daliah's
Engine 15 European Street Riverside European Street Beach European Street San Marco Fionn MacCools Grape and Grain Exchange Grassroots Natural Market Green Room Brewing The Grotto Hurricanes Intuition Ale Works Island Girls Kickbacks Lynch's Irish Pub Mellow Mushroom Fleming Island Mellow Mushroom Jax Beach Mellow Mushroom Southside Mile Marker Brewing Monkey's Uncle Northstar Substation O'Brother's Irish pub Olio Pele's Wood Fire Poe's Royal Palm Village Solids and Stripes Taps Fleming Island Total Wine + More Underbelly Wine Warehouse