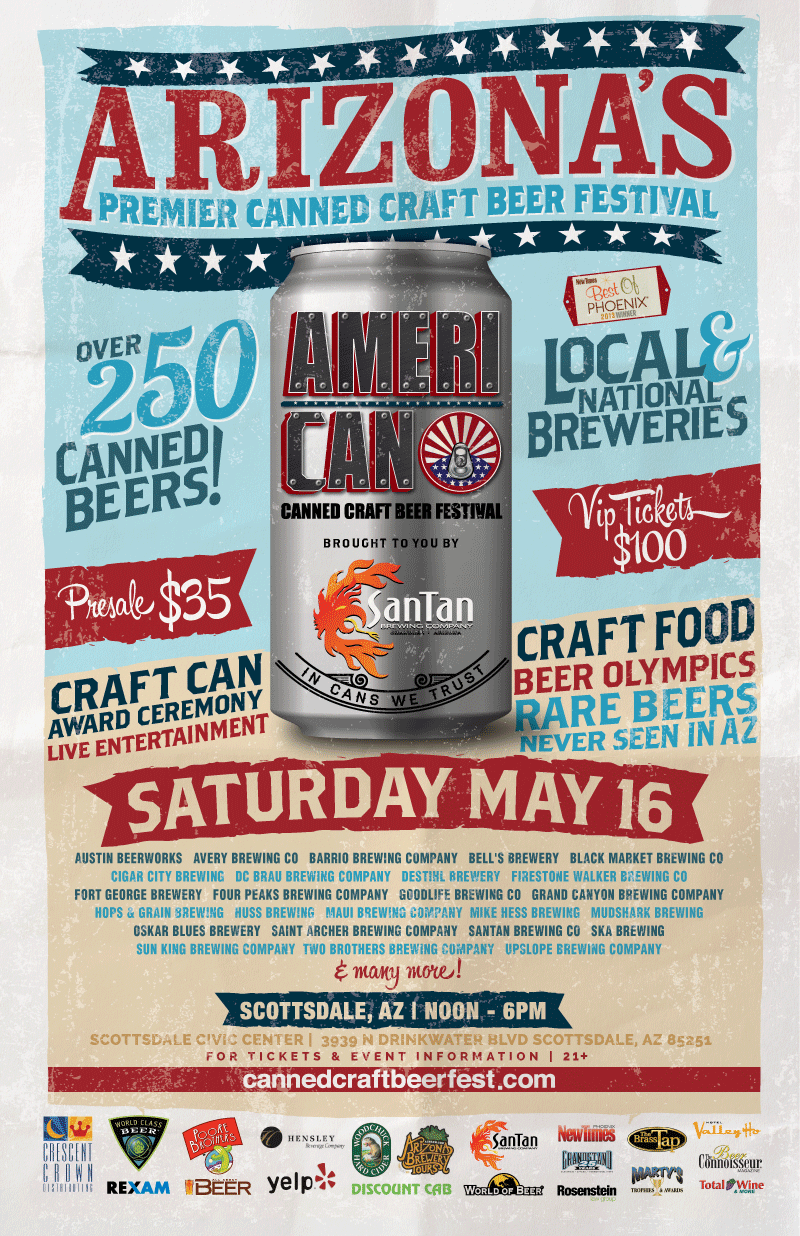 AmeriCAN Canned Craft Beer Festival, May 16, Celebrating the Canned Craft Beer Revolution in Scottsdale, AZ
Highlights include 300 canned beers, local and national breweries, rare beers, live entertainment, beer Olympic games, and industry exclusive educational seminars
Professionally produced by HDE Agency in partnership with SanTan Brewing Company, the award winning 5th annual AmeriCAN Canned Craft Beer Festival is set to return to the Scottsdale Civic Center on Saturday, May 16th. Presented by Rexam, AmeriCAN will open its doors at noon to VIP ticket holders and at 1 p.m. for general admission. The festival will end at 6 p.m.
Here's the current list of participating breweries:
Abita Brewing Company
Alameda Brewing Company
Anchor Brewing
Anderson Valley Brewing Company
Austin Beerworks
Avery Brewing Company
Barrio Brewing Company
Bell's Brewery
Big Sky Brewing
Black Market Brewing
Boulder Brewing
Caldera Brewing Company
Cigar City Brewing
College Street Brewhouse & Pub
Craft Brew Alliance
DC Brau Brewing Company
DESTIHL Brewery
Epic Brewing Company
Firestone Walker Brewing
Fort George Brewery
Founders Brewing Co
Four Peaks Brewing Company
Golden Road Brewing
GoodLife Brewing Co
Goose Island Beer Company
Grand Canyon Brewing Company
Hops & Grain Brewing
Huss Brewing
Jacob Leinenkugel Brewing Company
Lumberyard Brewing Co
Marble Brewery
Maui Brewing Company
Mike Hess Brewing
Mission Brewing
Moab Brewery
Mudshark Brewing
Nebraska Brewing Company
NOLA Brewing
Northwest Brewing Company
Oskar Blues Brewery
Papago Brewing
Phoenix Ale Brewery
Prescott Brewing Company
Saint Archer Brewing Company
Santa Fe Brewing Company
SanTan Brewing
Schilling Cider
Shock Top Brewing Co
Sierra Nevada Brewing Co
Ska Brewing
Sleepy Dog Brewery
Snake River Brewing
Sun King Brewing Company
The Australian Brewery
Twisted Manzanita Ales
Two Brothers Brewing Company
Uinta Brewing Company
Upslope Brewing Company
Utah Brewers Cooperative
Vermont Hard Cider Co LLC
Victory Brewing Company
Worthy Brewing Co
Located at the Scottsdale Civic Center, 3939 North Drinkwater Blvd, Scottsdale, AZ 85251, AmeriCAN Canned Craft Beer Festival will celebrate the canned craft beer movement with live music, food, a VIP tent, beer science garden and beer Olympic games. New festival elements this year include the Bell's Brewing Stadium Lounge and the Crafty Bastards Chill Zone.
Presale general admission tickets are available online at www.cannedcraftbeerfest.com for $35 each and include admission, a souvenir can and 20 four-ounce pours. Day of admission is $45. VIP tickets are also available through presale purchase only for $100. VIP tickets include admission one hour early, a souvenir can, 20 four-ounce pours, catered food, a private VIP zone with private restrooms and exclusive specialty beer sampling.
The entertainment lineup includes Two Tone Lizard Kings, Dry River Yacht Club, Catfish Mustache and DJ Slippe. This is a 21 and over event, no exceptions. Ticket purchasers and all guests must be 21 or over and must present a valid picture ID upon admission.
To sop up all those suds, local restaurants and food vendors will serve up some delicious grub including Brat Haus, Honey Bear's BBQ, Craft 64, Angel's Trumpet, Arizona BBQ Club, and Treatery. SanTan Brewing Company will provide catered food in the VIP Zone.
AmeriCAN isn't just a festival, it's also a competition! The week before the festival, more than 30 certified craft beer judges will gather to taste and vote for their favorites in nine categories including IPA, American Pale Ale, English Pale Ale, Wheat Beers, Stouts and Porters, Ambers and Browns, Golds, Blondes, Pilsners and Light Lagers, Fruit, and Specialty Beer. Gold, silver and bronze winners will be announced via live stream on May 9th at www.cannedcraftbeerfest.com.
The official sponsors of AmeriCAN include: SanTan Brewing Company, REXAM, Total Wine, Crescent Crown Distribution, World Class Beer, Hensley, Woodchuck, Discount Cab, Grandstand, Hotel Valley Ho, Phoenix New Times, World of Beer, Brass Tap, Yelp, All About Beer, Beer Connoisseur, Rosentstein Law, AZ Brewery Tours, Poore Brothers, Marty's Trophies, and Bar & Restaurant Insurance.
A portion of event proceeds will benefit the Scottsdale Cultural Council and the Arizona Society of Homebrewers (ASH). The Scottsdale Cultural Council serves Scottsdale residents, visitors, cultural institutions and artists by creating and advancing high quality arts and cultural experiences and opportunities. For more information about the Scottsdale Cultural Council, visit www.sccarts.org. The Arizona Society of Homebrewes strives to preserve and promote the time-honored tradition of homebrewing and to recognize it as an art form through information, education and dedicated practices. For more information and to become a member, visit ASH online at www.azhomebrewers.org.
For more event information or to purchase tickets, visit www.cannedcraftbeerfest.com. Also, be sure to "like" the event Facebook page at facebook.com/AmeriCANfestival and follow on Twitter @AMERI_CANFEST and on Instagram @AmeriCANcraftbeerfest.
Contact Info
Company: HDE AGENCY
Contact: Jen Pruett
Email: jen@hdeagency.com