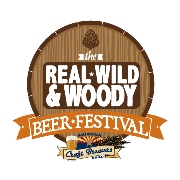 AZ Craft Brewers Guild Announces Summer Beer Affair – Real, Wild & Woody
REAL FAN OF CRAFT BEER? DON'T MISS THE REAL, WILD AND WOODY BEER AFFAIR
An Indoor Summer VIP Craft Beer Event 
TEMPE, Ariz. – Beer geeks, clear your calendars…the Arizona Craft Brewers Guild has announced Real, Wild and Woody, a one day only, exclusive indoor craft beer festival designed for those who love the variety and diversity of the Strong Beer Festival, but perhaps crave a more intimate setting.
From 2pm – 6pm Sat., July 19, Tempe Center for the Arts, at 700 W. Rio Salado Pkwy., Tempe, will set the stage for a slew of specialty cask and barrel-aged beers.  Plus, there will be some "wild" brews for those that appreciate the styles that represent Arizona's cutting edge. Each will come from rising breweries across the state, offering craft beer connoisseurs a rare opportunity to get up close and personal with not just new specialty brews, but the Arizona brewers behind the scenes, as well. 
The main purpose of the smaller-scale event is to celebrate and focus on the beer itself.  Real, Wild and Woody is an event that could only be produced by the Arizona Craft Brewers Guild. The indoor event is designed to perk up every craft beer lover during the dog days of summer.  
"The rapid rise of craft beer has brought with it a welcomed influx of beer festivals," said Rob Fullmer, executive director of the Arizona Craft Brewers Guild. "However,  Real, Wild and Woody offers something a little different. This is an event that only our state brewers could bring to Arizona. It's a big thank you to those that supported our larger Strong Beer Festival. This is a smaller event. Attendees are all VIPs because you help us accomplish our goal of celebrating Arizona beer and beer culture. "
Tickets for Real, Wild and Woody are all inclusive at $50 pre-sale and $65 day of, which includes 20 tastings and a 10 oz. hand blown commemorative snifter.  Tickets go on sale in early May. Join the Guild's email list and be the first to know when tickets are released.  For more information and tickets visit www.realwildandwoody.com.
This summer, will you be Real, Wild and Woody? The answer is Yes. The Arizona Craft Brewers Guild encourages you to get your tickets early as tickets are very limited and will sell out.
ABOUT THE ARIZONA CRAFT BREWERS GUILD: 
The Arizona Craft Brewers Guild was established in 1998 and represents 48 microbreweries across the state. The guild promotes the craft brewing industry in Arizona by providing educational opportunities to brewers, distributors and consumers while endorsing quality craft beers and the responsible consumption of these products. 
Media Contact:
Tiffany Jarratt-Shultz
Up Agency
-30-
Contact Info
Company: Up Agency
Contact: Tiffany Shultz
Email: tiffany@up-agency.com