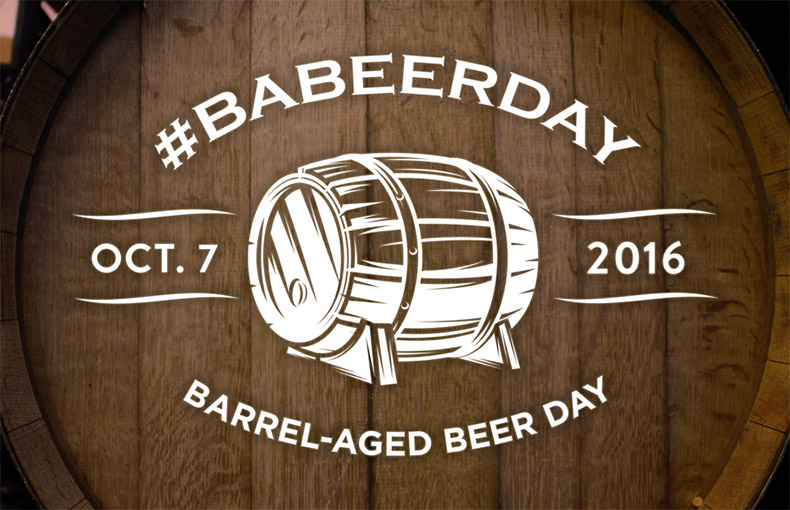 Barrel-Aged Beer Day Celebrates 4th Year Anniversary this October
Orange County, CA — (Monday, September 12)–  Orange County's critically-acclaimed brewery duo The Bruery® and Bruery Terreux® are celebrating "Barrel-Aged Beer Day" as the global celebration returns for its fourth year on Friday, October 7, 2016. Barrel-Aged Beer Day is an opportunity to appreciate the time, energy, and love that goes into a barrel as it rests for months, to years, waiting for the perfect time to shine. This is a celebration of the unique and flavorful beers that can only be achieved thanks to the beauty of the barrel. With a barrel program housing over 3,500 barrels of delicious beer resting in wood anywhere from 6 months to 2.5 years, The Bruery and Bruery Terreux are encouraging friends and fans to embrace the date by raising a snifter of their favorite barrel-aged craft beer.
Many craft breweries beyond our county, state, and national borders have barrel ­aging programs that run the gamut from nascent to internationally­ recognized. The barrel has become a sought­after addition for craft brewers looking to develop and enhance their portfolio.
In charge of all the barrels at Bruery Terreux is Jeremy Grinkey, the winemaker turned Bruery Terreux Production Manager.  A master of the craft and having spent many years in the wine industry, Grinkey is bringing a unique perspective and extensive experience to our barrels. Bruery Terreux has many recognizable similarities to a winery, including fermentation, treatments, barrel, and tank additions.  
"Barrel-aged beers are really intricate and different from the standard brewing processes. Over the years and generations really, winemakers have figured out how to best use the micro oxygenation and tannic qualities imparted by differing barrels. Creating a finished product out of many different barrels and understanding which barrels to add or more importantly not add to a blend, is a challenge in itself. The brewing world is now on the same path of discovery and creativity when it comes to barrel aging and blending", says Grinkey about the unique barrel-aging program at  Bruery Terreux.
These special barrel-aged beers certainly deserve their own international holiday. Whether it's a bourbon barrel- aged barley wine, a barrel-fermented funk bomb, a Scotch Whisky barrel-aged Scotch Ale, or a Hungarian oak aged wine & beer hybrid, raise a snifter in celebration of the beautiful spectrum of flavors that can be enjoyed on Barrel-Aged Beer Day!
Join the conversation on social media via the #BABeerDay hashtag, or get the Untappd badge by checking in to any barrel-aged beer from The Bruery & Bruery Terreux during the first week of October.
DETAILS: The first Friday of every October | October 7, 2016 Barrel-Aged Beer Day | #BABeerDay Facebook: https://www.facebook.com/BABeerDay/ Instagram: @BAbeerday | Twitter: @BAbeerday To promote barrel-aged beer day, please use any of our assets available here: www.thebruery.com/media Other barrel-aging breweries are encouraged to like, share, and post using #BABeerDay. 
ABOUT THE THE BRUERY & BRUERY TERREUX The Bruery was founded in 2008 by Patrick Rue, now a Master Cicerone®, after he found homebrewing to be of greater interest than a career in law. Innovation has driven The Bruery to create one-of-a-kind barrel-aged, sour, and experimental beers since its inception. In 2015, The Bruery moved its sour beer production to the Bruery Terreux co-brand based in Anaheim, while The Bruery continues to craft non sour and spirit-barrel aged beers at its original site in Placentia. Rue's award-winning beers range from high-ABV spirit barrel-aged specialties, like their coveted Black Tuesday®, to light and sessionable homages to historical styles, such as Hottenroth® Berliner Weisse. www.thebruery.com | www.brueryterreux.com Instagram: @thebruery | @brueryterreux
ABOUT BARREL-AGED BEER DAY: Barrel-aged beer day is a global celebration honoring breweries and craft brewers who are world-class leaders in aging beers. This day was commemorated by the award-winning team from The Bruery and Bruery Terreux and began on October 4, 2013. Celebrated annually on the First Friday of October, this holiday is dedicated to all the hard work of the craft brewers and cellar masters of barrel-aged beers. With early autumn in mind, this season is also the most ideal for enjoying the warming qualities of most barrel-aged beers. As a barrel-aged focused facility for years, The Bruery & Bruery Terreux have been industry leaders pioneering the art of craft brewing and barrel-aged beers.
Contact Info
Company: The Bruery & Bruery Terreux
Contact: Cambria Griffith
Email: cambria@thebruery.com