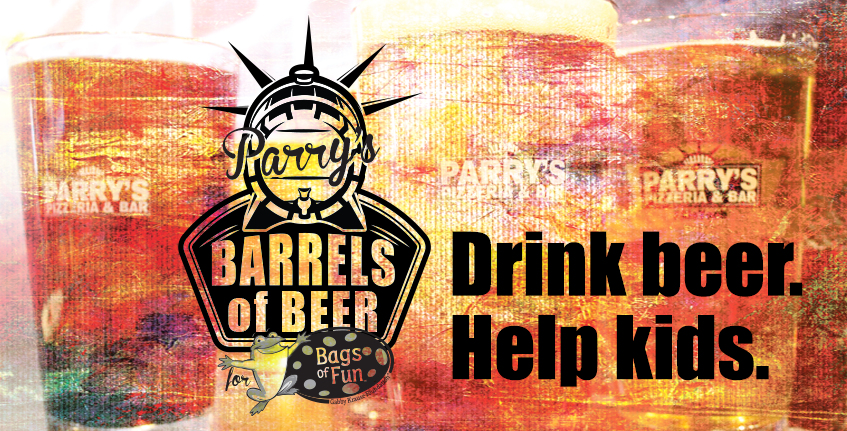 Parry's Pizza Introduces: Barrels of Beer for Bags of Fun
Drink beer and soak up some sun for our charity, Bags of Fun
We take great pride in helping a local, Colorado-born 501(c)(3) that addresses very specific needs for children that have been afflicted with some scary challenges. If we are going to put our money where our mouth is…well, the breweries will, too! This event has been curated to see to it that Bags of Fun can continue to do their work and you, the craft beer lover, can join in on this fine day.
In fact, this event will cater to not only the craft beer lover, but also the craft beer lover's children. Adults will be sipping on craft beer that has been donated by several Colorado breweries and they can all rest assured that all proceeds from these donated kegs are going straight to Bags of Fun. The children in attendance will be able to take part in building their own personal pizzas for lunch, playing some games on the patio and even have their face painted. Who doesn't like a good face painting?
Our Signature Beer partner, Epic Brewing Company, is among a group of breweries that will be donating kegs for this event. We are curious to see what some of these breweries come up with as donations. We're pretty sure they'll all be great donations! Also joining in the fun will be Oskar Blues and Left Hand and more to be announced. Each brewery rep comes with activities like bags or corn-hole, event ticket giveaways, swag and a few surprise tricks up our sleeve to keep the kids and adults entertained all day.
This event will be happening at our Highlands Ranch location on Saturday, June 17th starting at 11am. Technically, the event runs all day but here are some of the highlights of the event and when they'll be going down.
12pm – 2pm: Kids build-your-own pizzas
12pm to 8pm: All our featured brewery partners will have reps on hand throughout the day to host activities and give out swag!
1pm – 3pm: Face painting
Contact Info
Company: Parry's Pizza
Contact: Keniey
Email: ksonley@parryspizza.com